Best Places to Eat and Drink in Notting Hill and Holland Park: A Local's Guide
22 Oct 15
Best Places to Eat and Drink in Notting Hill and Holland Park: A Local's Guide
22 Oct 15
Lunch at Books for Cooks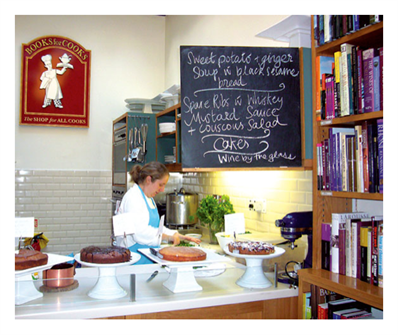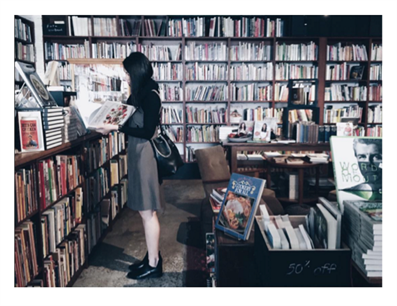 This is my most sacred London secret. At first glance, you'd be forgiven for thinking that this small shop, painted red and stacked with an assortment of recipe books from around the world, was just a cookery bookshop. But upstairs, there's a cookery school where dozens of celebrity chefs have taught, including the Two Fat Ladies, Annie Bell and Sophie Grigson. The best bit, though, is the little 'test kitchen' at the end of the bookstore. Here, regulars and passers by enjoy a meal made by the chefs themselves. Whichever seasonal deliciousness is being cooked up for lunch (there's no choice of menu) is served to those lucky enough to get a table, and for £8 for 3 courses, it's an absolute steal. Get there by 11.45am to avoid disappointment (we've learnt the heard way). You can also drop by for tea and a slice of their infamous cakes. My favorites are the upside-down cakes, which have a layer of caramelized fruit at the bottom.
Details
Address: 4 Blenheim Crescent, Notting Hill, London, W11 1NN
Open: Tuesday to Saturday, 10.00am to 6.00pm
Cost: Mains: £4/5, Cake: £3/4, Wine by the glass: £3
Above: A row of their daily home made cakes. These are served in extraordinarily large portions with a drizzle of chocolate sauce and a dollop of British yoghurt. Right: Browsing the endlessly delicious literature on offer. Credit: G0lina
Brunch at Lowry & Baker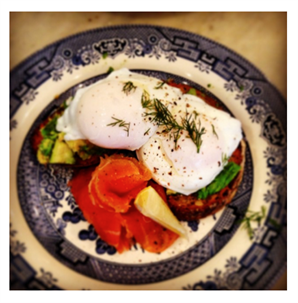 I came to this brunch spot late in life. I already regret years of brunching elsewhere, or in my own home, when I could have been enjoying Lowry & Baker's homemade Bloody Mary's and Harissa Eggs Benedict. The kitchen is set in the dining area itself, and the chefs are a team of casual looking Notting Hill locals in their early 30s. The effect is something like having brunch with friends – albeit friends who produce consistent excellence in the kitchen. Eggs benedict and other classic brunch dishes are served alongside slightly more exotic offerings like Turkish eggs or black bean soup with fresh green chili, coriander and crème fraîche. Salads are excellent and change each today. Mains are typically around £8.50 – a good deal for the area.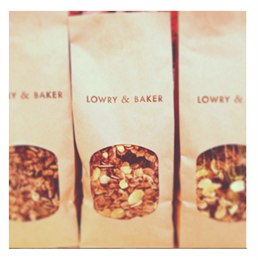 Above: Brunch is served on pretty porcelain plates. Right: Homemade granola is scooped into bowels and served with fresh fruit and yoghurt.
Details
339 Portobello Rd, London W10 5SA 
Open: Daily until 4pm 
https://www.facebook.com/lowryandbaker
Coffee and Deli at Melograno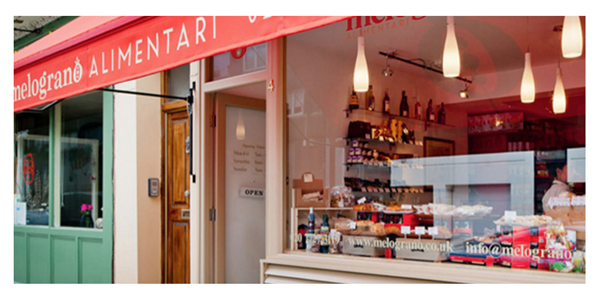 I come here for coffee every morning, partly for the great coffee, but mostly to people-watch the string of smart Italian families who also take their morning cappuccino here. This is as authentic as it gets, and it's much less crowded than the coffee shops on the Portobello Road. I've often left here laden with unnecessary things like packs of truffle risotto, jars of Tuscan honey and several parcels of creamy Burrata mozerella.
Details
Address: 4 Clarendon Road, W11
Web information: http://www.yelp.co.uk/biz/melograno-alimentari-london
Dinner at Osteria Basilico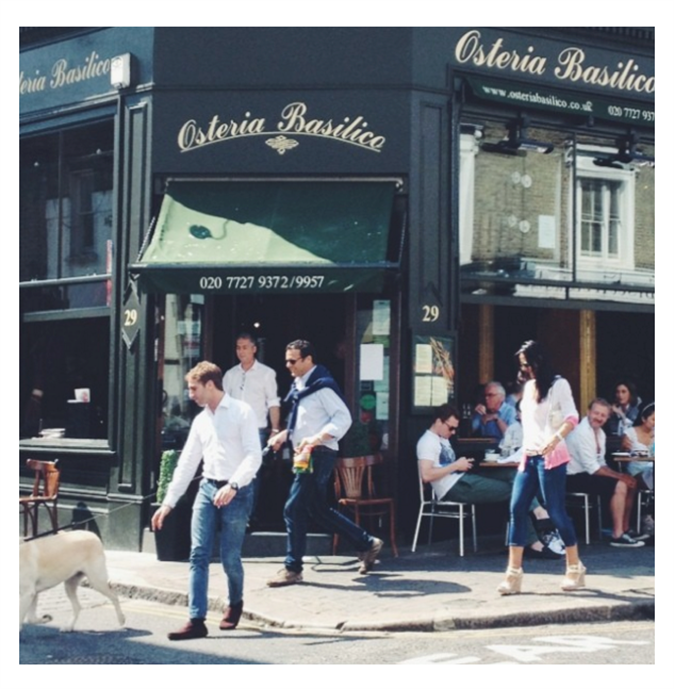 Above: The trendy Notting Hill set are never too far away from this staple Notting Hill eatery. Credit: Alexklacam
One of the most romantic dinner spots in Notting Hill. It serves high quality, authentic food: it's one of the only Italians that a Milanese friend of mine will agree to eat at. The restaurant was so successful from the get go that they opened a sister restaurant, Mediterraeneo, on the opposite corner of the street, to take the spill of surplus foodies. I'm a big fan of the Spaghetti alle Vongole e Pachino e Vongole, (pasta with clams, cherry tomatoes, garlic and olive oil).
Details
Address: 29 Kensington Park Road, W11 2EU
Reservations (by phone only): + 4420 7727 9957
Open: Lunch and dinner daily 
http://www.osteriabasilico.co.uk/home
Market Food at Jamon Jamon, 89 Portobello Market 
My favourite food stall at Portobello Market, and the one that draws the biggest crowd, is the Spanish paella stand. Every Saturday, at stall 89, huge pans of Paella are made from scratch by seasoned Spanish paella-pros. They open as soon the cook's cry of, "Anybody hungry?!" is heard above the market bustle. Go early to avoid the queue.
A Pint at The Windsor Castle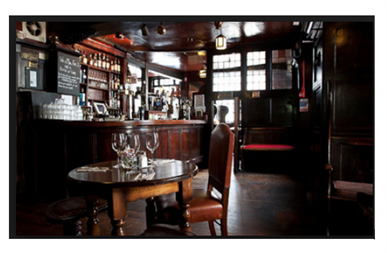 I love this pub for its maze of wood paneled seating areas. It's as good for an afternoon beer and evening glass of wine as it is for a Sunday Roast (families with grown up children come here to eat, drink and read the newspaper in an alcove). The Windsor Castle is a good place to experience London's pub culture without having to put up with a rowdy crowd. The beer garden is lovely too.   
Details
Address: 114 Campden Hill Road, Kensington, London, W87AR
Open: Monday to Saturday: Noon - 11pm
Sunday: Noon - 10.30pm
http://www.thewindsorcastlekensington.co.uk/
Dinner at Casa Cruz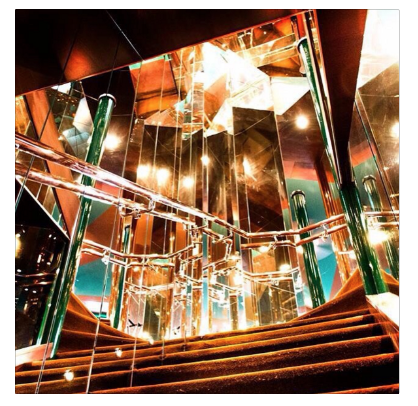 I had the incredible luck of having this place open at the end of my road. Set at the less fashionable end of Portland Road, Holland Park, is Casa Cruz, a deluxe Argentinian restaurant. With bronze paneled walks, green velvet upholstery and a mirrored spiral staircase to the upper dining floor, you'll feel a million dollars before you even open the menu. It's not cheap, but breathe in, make your way through the 10 different House Old Fashioned's, and dive headfirst into a feast of sea bass carpaccio, iced crudité and Argentinian sirloin steak. 
Details
Address: 123 Clarendon Road, Holland Park, London W11 4JG
Open: Lunch and dinner every day, except Sundays (lunch only)
Reservations: [email protected] 
Wine and tapas at the Kensington Wine Rooms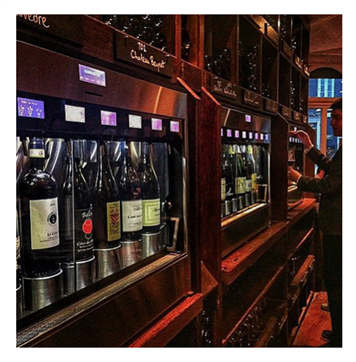 Thanks to the Enomatic wine dispenser, a gadget so new that the adjective is still underlined in red when I type it into Word, wine bars like the Kensington Wine Rooms allow customers the opportunity to taste wines that might be beyond their price range. Around the walls of this chic little West London tasting room, are rows of glass paneled cabinets where wine lovers can dispense 25ml, 125ml or 175ml of wine. The staff here are very friendly, and are always keen to answer my endless reams of questions. They're currently spotlighting South African wines from wineries that have sprung up post-Apartheid. The venison Carpaccio is very good too.
Details
Address: 127-129 Kensington Church St, London W8 7LP
Reservations: +44 20 7727 8142 
http://winerooms.london/kensington/
Cupcakes at The Hummingbird Bakery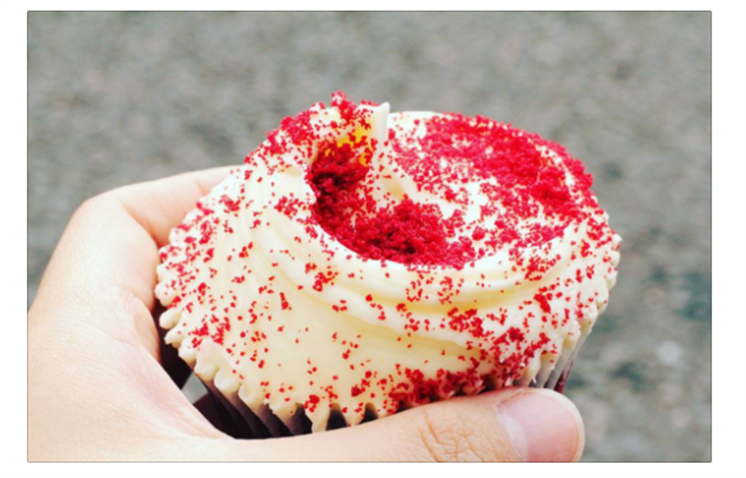 Every time I think that cupcakes are 'over', I pass Hummingbird and see another celebrity taking tea and cake in the window. From salted caramel to red velvet, Hummingbird still rules over London's cupcake scene.
Details
Address: 133 Portobello Road, London W11 2DY
Open: Monday - Friday 10.00am - 6.00pm, Saturday 9.00am - 6.30pm, Sunday 11.00am - 5.00pm
https://hummingbirdbakery.com/
Pizza at The Oak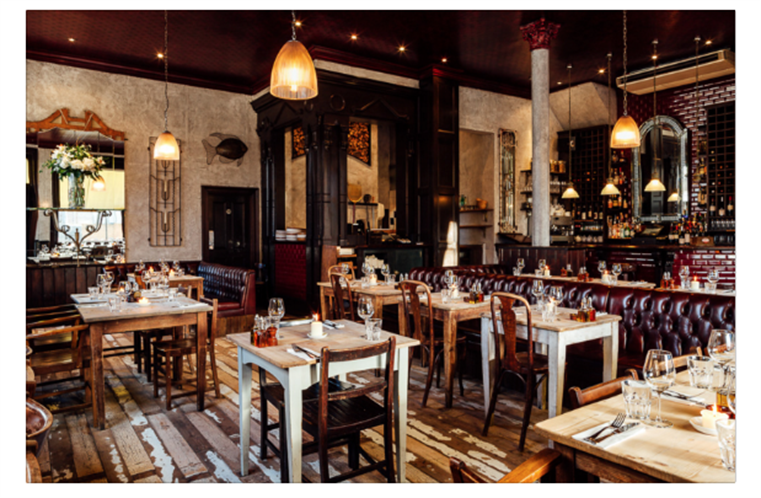 I know - the name doesn't exactly recommend the place as a hotspot of authentic Italian pizza, but there isn't a pizza with a base this delicately thin outside of Naples. This is, apparently, do with the yeast/dough ratio – I wasn't listening because I was in a second dimension with my cured carpaccio di buffalo pizza.
Details
Address: 137 Westbourne Park, W2 5Ql
Open: Lunch and dinner daily
Reservations: 020 7221 3355 or [email protected]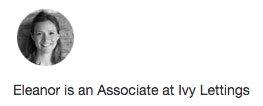 Related posts
Visiting London

Top 10 Family-Friendly Easter

...

Easter holidays are fast approaching, so take a look at staying London. With a range of beautiful family homes available choosing your rental is easy!

28 Mar 13

Go to: The British Museum's Po

...

When on your London Vacation do visit the amazing exhibition on Pompeii at the British Museum. The British Museum is a must for any holiday to London.

29 May 13