Choose a Vacation Rental That Lets You Pack Less
14 Oct 15
Choose a Vacation Rental That Lets You Pack Less
14 Oct 15
What do I take with me? What will already be at the holiday home? What should I expect from the house? We're here to help the organization of your holiday, and give you an insight into what it's like to stay at a London vacation rental.
Family holiday? Choose a family home to save bringing toys & more
You'll have enough in the suitcase by way of prams, snacks and medicines to have to worry about games and activities too. Courtnell Street, Melody Road and Barkston Gardens are all owned by families, and are full to the brim of games and toys. Melody Road and Courtnell Street even have playrooms. Just bring your little ones, and their blanky or Eddie the Giraffe, and save on the car space. 
Below: An epic, children-pleasing playroom at Courtnell Street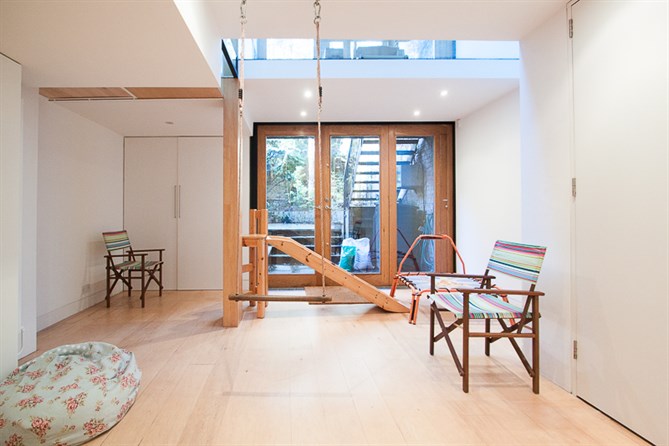 Kitchen Equipment
Travelling on a budget? The option to cook at home is arguably one of the most important reasons to pick a vacation rental over a hotel. Choose an agency that rents homes that are privately owned, so that when you arrive, the rental has proper kitchen equipment. If you're anything like me, and like a good set of sharp knives in the kitchen, you'll be happier with the good equipment that an owner has invested in for themselves, over the cheaper models provided by a vacation rental company. Before you pack, do remember that you're not renting an empty condo, so you won't need to carry a cafetiere in your hand luggage.
Linen
If you're renting a vacation home, linen will be provided. We prepare a fully made up bed with soft linen, towels and handtowels. If you use a face towel, do remember to bring your own. Equally, if you use hypoallergenic bedding, take your personal bedding with you.
Showering
Most vacation rental companies provide soaps and gels, but don't provide shampoos and conditioners, so do remember to pack these. Equally, we provide hairdryers because we know these are a pain to lug around in your suitcase.
Cots and Airbeds
Another great reason to rent a holiday home is because many agencies do provide cots and airbeds. Remember to book one in advance (normally at a fee), to avoid disappointment. 
Right: Professional kitchen fittings at Falcon Grove, sleeping 6 for £275/night
Related posts
Visiting London

Top 10 Family-Friendly Easter

...

Easter holidays are fast approaching, so take a look at staying London. With a range of beautiful family homes available choosing your rental is easy!

28 Mar 13

Go to: The British Museum's Po

...

When on your London Vacation do visit the amazing exhibition on Pompeii at the British Museum. The British Museum is a must for any holiday to London.

29 May 13