How Do I Know That I'm Choosing the Right London Vacation Rental?
06 Oct 15
How Do I Know That I'm Choosing the Right London Vacation Rental?
06 Oct 15
Overwhelmed by the choices? Torn between a few different properties? We've been matching home to customer since 2009, and know what's important to look for when we choose a vacation rental, so that there are only happy surprises. Here's our guide to what you should look for on each property listing, so that you can guarantee that you're choosing the right vacation rental for you.
1)   Check the amenities list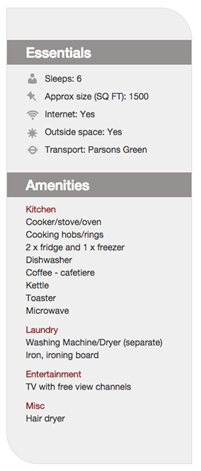 Make sure to read the amenities list thoroughly before you book, so that you choose a vacation rental with all the appliances that you expect there to be. Will there be an iron and ironing board at your chosen vacation rental? Will there be a washing machine and tumble dryer? If a tumble dryer isn't listed, are you happy with a washing machine and a drying rack?
Another thing to bear in mind is that London homes often have a duo washer/dryer rather than separate appliances, to save space. Don't be put off - they do work well!
London houses also often don't have air conditioning, which tends not to be a worthwhile investment in a country that doesn't usually get that hot! If you're planning a trip to London and there's a heatwave forecast, make sure to request a fan for your bedroom when you book. 
Right: All our vacation rentals pages list Essentials and Amenities. Here's what you'll find at Dymock Street. 
2)   Study the map
Many vacation rental websites describe a property as situated in a popular neighborhood, when actually it's quite a walk from where you might expect it to be. Check the map – is the property really in the heart of that area, or is it a bit of a stroll away?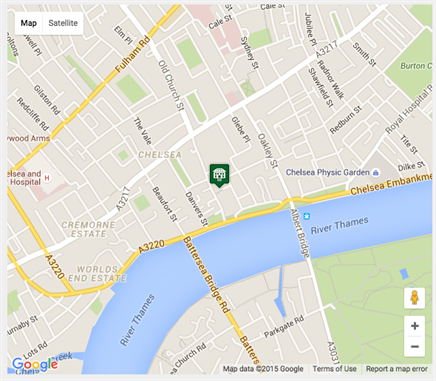 Above left: Our Justice Walk vacation rental, in the heart of London's Chelsea neighbourhood. Take a virtual wander around town with Google street view, by dropping the yellow symbol onto the house. 
3)   Is there everything you need close by?
Good agencies and individual property owners should state in the listing how far away shops and train stations are. If you don't want to walk 20 minutes to the nearest train station or grocery store, make sure you check these distances in advance. It's also important to get a feel of the area before you arrive. Is it residential and family friendly or busy and central? Are there places to eat and drink closeby? What is there to see and do locally? Below is one of our local area guides which can be found on every property page.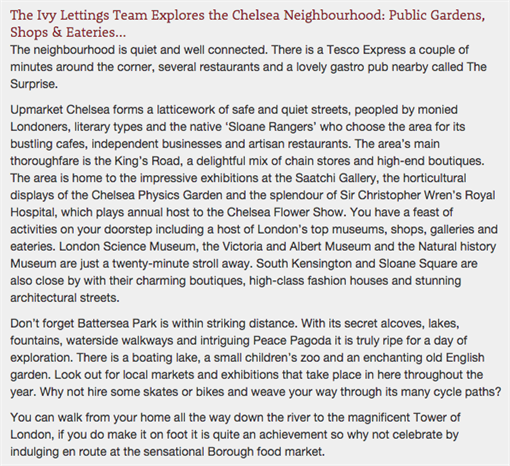 4)   Check reviews
This is VIP. I would never stay somewhere that didn't have any reviews at all (unless the vacation rental was listed only very recently). When I look for holiday apartments for myself, I really care about street noise and I find that reviewers often comment on whether the rental is quiet or not. Reviews are also a good way to find out if the holiday home is clean, what the neighbourhood is like and what a customer's impression of the home is – if you're booking through an individual homeowner, their photos can sometimes be deceiving! There's no excuse for a property not to have a single review, and nowadays if a customer likes a vacation rental enough, they usually feel compelled to write a review. This works both ways – if you enjoyed your stay somewhere, then do write a review!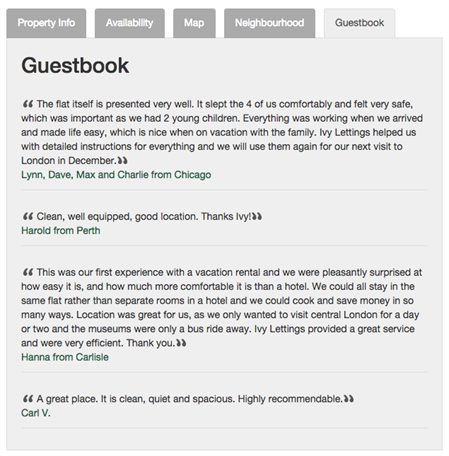 Above: the Guestbook of reviews from our Edith Terrace property.
5)   Check if the property is suitable for children
Make sure your London vacation rental is child-friendly. If you're going through an agency, they should only offer you holiday homes that are suitable for your group configuration. It's always good to double check though, especially if you have a particularly dexterous child that opens windows – ask if there are any lower windows as this might not be something that all owners and agencies think about.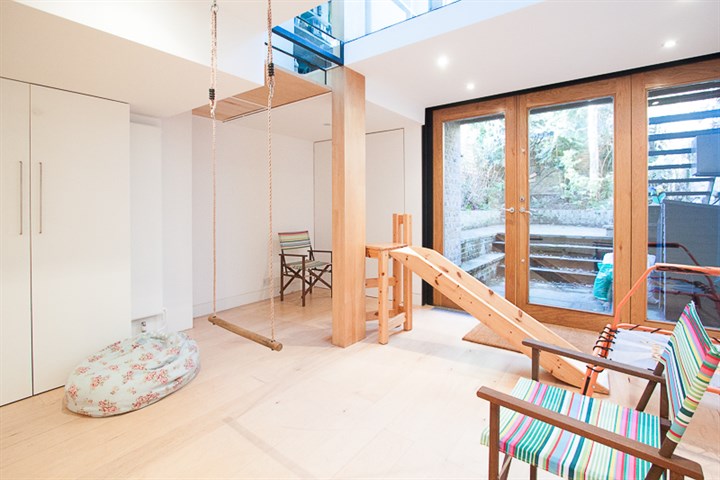 Above: the fantastic playroom at Courtnell Street, where parents can keep an eye on their little ones from the floor above.
6)   Beds, beds… sofa beds
If you're looking for a home where everyone has there own room, don't be caught out by a home that sleeps 3 – with the third person sleeping on a sofa bed. This is common with many city vacation rentals, and many customers are very happy to have the third guest sleeping on either a large sofa (check the size) or a sofa bed. If every guest wants their own room, or a bed in a bedroom, make sure to read the listing thoroughly. Vacation rentals are not hotels - if on arrival you realize there aren't as many bedrooms as you were expecting, there won't be an option to pay for an extra room.
The same applies to additional beds – if you need a cot or an airbed, ask if these are on offer, and request one when you book to avoid disappointment.
You might also be surprised by some interesting bed arrangements when you travel in Europe. When Alice, our Director at Ivy Lettings, was looking for vacation rentals in Copenhagen, she found that many apartments have 'spacemaker' fold down beds. If you're not keen on a James Bond-style sleeping arrangement, examine the bedroom photos closely!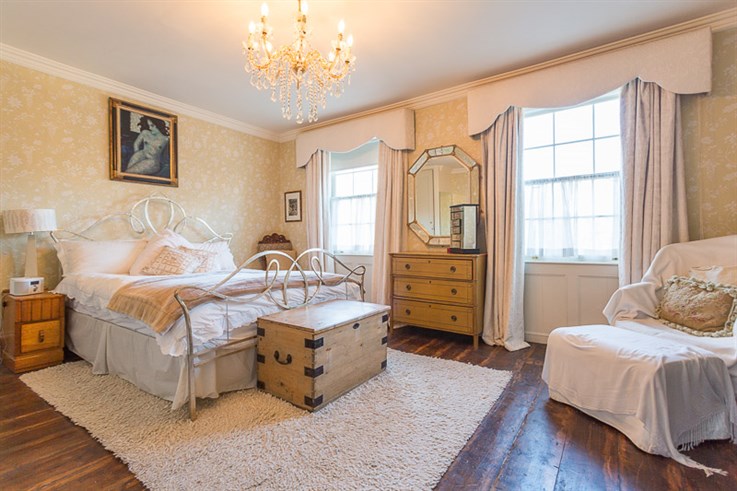 Above: The lusciously comfortable Master bedroom at Park Road. 
7)   Read the cancellation policy carefully
Mostly, cancellation policies are either 1) flexible 2) moderate 3) strict. Check whether or not you'll get your money back if you change your mind, and also whether your personal travel insurance covers you if you have to cancel unexpectedly. We offer customers a full refund if they cancel within 24 hours. Check if your vacation rental has the same benefit.
8)   Mobility 
If you have mobility requirements, it's vital to check whether there are stairs to access the vacation home or stairs inside the property itself. We've seen apartment listings that don't specify that there are stairs in the apartment. If access and mobility aren't written about in the listing (most good agencies and homeowners do this - see our Access & Suitability bar below, which is on each of our property pages), check photos, and ask. If you've fallen in love with a townhouse holiday rental but someone that you're travelling with can't use stairs, ask if there's a bedroom on the ground floor. It also might be a good idea to check if there is a taxi rank closeby, or ask for a good taxi company that can get you around town. We partner with Addison Lee (0207 407 9000). 

9)   Enquire about building works
In the summer season, when Londoners go on holiday and there is less chance of rain (mostly!), building works are everywhere. The world and his wife, as the English idiom goes, are tiling the roof/repainting the house/fixing the drains. Sometimes the work isn't loud or invasive, but do enquire before you book. Mostly, agencies don't automatically get told about building works; even though London homeowners are meant to inform their neighbours of any planned building works, they often don't. It's useful to ask the vacation rentals agency to double check with the owner if they know about any upcoming works.
Now you're now all clued up on choosing the perfect vacation rental. Here's to your next, and best, London city break!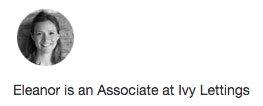 Related posts
Visiting London

Top 10 Family-Friendly Easter

...

Easter holidays are fast approaching, so take a look at staying London. With a range of beautiful family homes available choosing your rental is easy!

28 Mar 13

Go to: The British Museum's Po

...

When on your London Vacation do visit the amazing exhibition on Pompeii at the British Museum. The British Museum is a must for any holiday to London.

29 May 13