How to Use a London Bus: The Basics
05 Oct 15
How to Use a London Bus: The Basics
05 Oct 15
Don't be daunted – you'll soon be hopping on and off the London Routemaster buses like a local. Here's how:
Download the Citymapper App, loved by Londoners
I have it. Thousands of Londoners do. It's much better known in London than in the US because of our complex public transport network, and our desperate need to make it easier for ourselves. If you only have 1 app on your phone when you travel, it should be this one. On a basic level, Citymapper gives you different transport options to get from A to B. It finds your current location (or you can enter in another location), and then tells you how you can bus, cycle, walk or train to our desired destination.
But what makes it special is that it's connected to Transport for London (TFL), so if there are any delays or hold ups in your route, the app will tell you and suggest other options. This way, you can guarantee yourself a problem-free journey.
You can use Citymapper online at www.citymapper.com, and then change the city to London, (below right, a journey from Donne Place to Oxford Street), or you ocan download it from the apstore (below, left).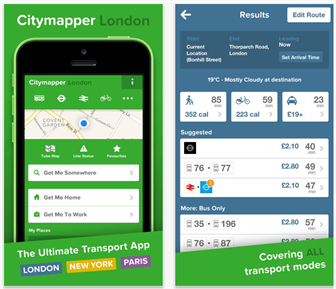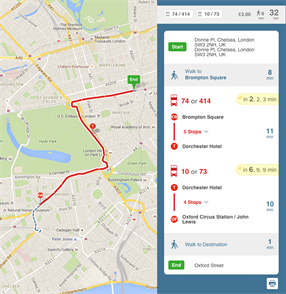 How can I spot the right bus stop?
London bus stops are called a place name followed by one or two letters, e.g. "Brompton Square KW". These letters – e.g. "KW" are written on a post above the bus stop, so you should be able to spot it from down the street.
Below: the Middle Temple Lane bus stop, where London Barristers have had their chambers since the 1600s.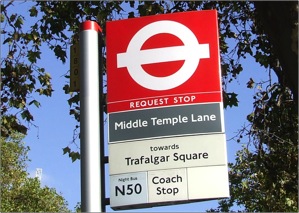 How do I pay for a bus?
You can only pay for a bus with an Oyster card or UK contactless card – you cannot pay in cash. This means you'll have to make sure your Oyster card is topped up at an Underground station before you make a bus journey. Alternatively, if you buy a day travel card, they can also be used for the bus. But we highly recommend you get an Oyster card as they mostly end up being better value.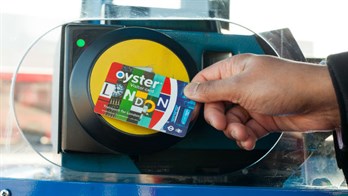 What is a Routemaster bus?
The Routemaster bus is a brand bus based on the original 1954 model with an opening at the back, which gave Londoners the freedom to get off the bus whenever they chose. This is also terrific fun. The new Routemaster bus will replace all London buses in 2016. Until then, if you catch a non-Routemaster bus, you'll have to wait for the bus stop.
Click here for our blog post on our favorite hop-on-and-off Routemaster routes through parks and palaces, which only cost the standard £1.50 bus fare.
How do I stop the bus?
You know what your stop is, you know it's the next stop, so how do you signal to the driver to stop? It's easy – simply press the 'stop' button on one of the upright metal posts throughout the bus.
Are buses accessible for disabled passengers?
Yes. All buses are 'low floor vehicles', which basically means that wheelchair users and customers with mobility impairments as well as people with strollers should be able to get on and off easily. All London buses are fitted with a retractable ramp.
There is space for one wheelchair user, and wheelchair users do of course have priority over this space.
All buses are also free of charge for wheelchair users.
What about night buses?
We highly recommend you take a taxi after 9pm (either a licensed black cab or you can order from Addison Lee, our partner taxi company) on 020 7350 5960. If you would like further information on night buses, which do run 24 hours a day, click here for the official Transport for London night bus page.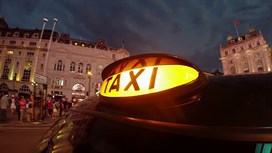 Related posts
Visiting London

Top 10 Family-Friendly Easter

...

Easter holidays are fast approaching, so take a look at staying London. With a range of beautiful family homes available choosing your rental is easy!

28 Mar 13

Go to: The British Museum's Po

...

When on your London Vacation do visit the amazing exhibition on Pompeii at the British Museum. The British Museum is a must for any holiday to London.

29 May 13