Ivy's Founder Guy van der Westhuizen's Tips for a Renting Your Home
18 Sep 13
Ivy's Founder Guy van der Westhuizen's Tips for a Renting Your Home
18 Sep 13
Four years ago, time-rich but cash-poor, I wanted to rent out my Shepherd's Bush home to finance a trip abroad. I searched the Internet for answers but found none. From this disappointing experience was born my London short lets agency, Ivy Lettings. I persuaded all my friends to hand me their keys when they planned to go on holiday so I could let them out to tourists. Their very simple questions were all met with my confident "don't worry"s and "I'll take care of that"s. I knew that to earn my commission and add value I'd have to do the grunt work and make good my promise to remove the hassle of preparing a home for a holiday let. Like most entrepreneurs - I like to think at least - I was winging it. Learning on the job. I'd been a lawyer and a banker, not an estate agent or a cleaner. How hard could it be? Four years and 2,500 lets later, I know full well. Speaking both as an agent and a letting owner (I tasted my own medicine letting out my family's home this summer through Ivy for 4 separate lets) here's my experience and advice:
What's it like to rent out your home?
Letting out your home for holiday lets (AKA in US as "vacation rentals") is less and more stressful than you think. Let me explain: 
-       less stressful because you really don't need to "move out" in the traditional sense of boxing up your life and keeping it in storage or at your long-suffering parents' place. Your incoming guests know that they are moving into somebody's home – this, along with the savings, is the main reason they aren't staying in a hotel - so they expect to see a certain amount of your "things" (except if you are pathological hoarder or have recently downsized from Highclere Castle to a Chelsea studio). They are moving in for a holiday with a few suitcases, so generally you only need to make a few suitcases worth of space available.
- It's more stressful because your home - if it's anything like mine - needs to be brought up to standard. I'm not talking about installing hot tubs or turning your baby's nursery into a media room, but sorting out all those niggles that you have trained yourself to ignore over the past decades and which might irritate (or when taken all together, infuriate) your guest. If you're a married man, this will be the DIY list that your wife has been hassling you to get on with since Christmas 2008. Here was my list this summer:
replace light bulbs (x17) throughout house.
fix WC door handle to prevent self-entrapment by unwitting occupants.
tighten loo flush handle and fix flushing mechanism, the trick to handling which only 3 people in the world know.
replace laundry basket which looks like it's been attacked by large dog.
carpet shampoo bathrooms (if, like me, you're silly enough to have carpeted bathrooms).
trim jungle-like canopy of wisteria and weed garden.
descale shower head, kettle etc (limescale does not seem to exist in parts of America so beware these guests' reactions...)
fix that door so that it closes without two people having scrummage against it.
give to charity those 4 bags of clothes & shoes in the bathroom cupboard which my wife is apparently never going to wear again (it's been a good two months and I'm still married - cull vindicated IMHO).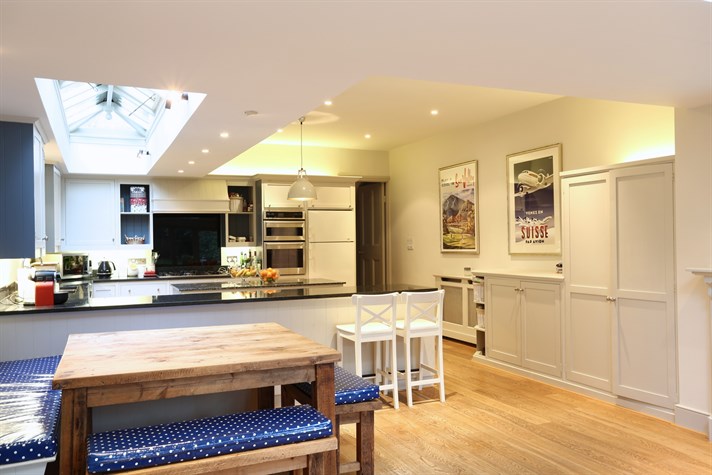 As your wife has been really helpfully reminding you, these things only take a couple of hours when you put your mind to it (or better still - 1.25 hours of thehandysquad.com's time when she's not in - strong recommendation). The stressful part here is leaving it to the last minute. My advice here would therefore be:
General Guidance
freshly scrutinise the functioning of your home at least 2 weeks before you are due to let it out,
make a list of niggles and sort them out in good time.
If you let your house out yourself, you'll be embarrassed - and your jet-lagged guest annoyed - at each special knack, heel kick, "kind of turn that and then quickly grab this" that needs to be explained / understood to make every appliance, fixture and fitting work.
If you use an agent to explain all this for you, it's possible you'll find your commission rate creeping up…
Your guests' happiness aside, you will feel an unexpectedly deep sense of personal satisfaction, catharsis and spousal peace at sorting out these domestic niggles for your own benefit. And, whilst there are no prizes for functioning doors and descaled shower heads, it's the little things which, taken together, will tip an otherwise very happy tenant into a nasty reviewer, no matter how literally-8-seconds-to-South-Ken-tube your location or Designer's Guild your sofa is. Sweat the small stuff here.
'De-personalising'
As mentioned, guests are expecting to move into a home. But there's a balance to strike between "homey" and "way too much information". As agents we always advise on how to strike the balance and it always starts with de-cluttering where necessary and asking owners to pay particular attention to bathrooms and kitchens.
Bathroom cabinets and all toiletries should be totally removed and kitchen fridges emptied.
Guests appreciate olive oil and sugar/salt/pepper etc and a limited amount of non perishables (rice, tinned tomatoes), but not half a loaf of bread or 8 almost empty cereal boxes
Welcome packs with a few items (fresh bread, butter, jam, tea, milk) are a great idea.
Personal Items
if you have the space, close off one room (the smallest/the study) for your own things. Put in it a dismountable coat rail from amazon (c. £30) to avoid stuffing hanged clothes into bin liners.
Label bags with what came from where to help unpacking when you're back home. Either lock this room or put a polite notice on the door asking guests to keep out.
For other cupboards/drawers etc they should keep out of, tie a ribbon round the handle and tell them what this means. Of course lock things up but if this means metres of padlocked chains everywhere, bear in mind how this looks to guests.
Notices and Tenant Information
Give your guests information on how everything works (internet first and foremost), and the local area.
Present this in a succinct, digestible, 3/4/5 page document. Nobody reads lever arch files on holiday and they'll just bother you instead for the info they need instead of reading it / ignore it and do what you told them expressly not to in the 5th Appendix.
At Ivy we have a template info doc that our owner fills in and cannot run longer than 2 pages, and then we create a map with transport links, local pubs plotted on it.
When necessary, leave notices - I had one asking them to take off shoes before they went upstairs and on the door reminding them to double lock. Laminated word docs are more presentable than excited scrawls on post its, and command more respect.
Don't get carried away ("Don't forget to WASH YOUR HANDS!!" / "GOOD MORNING!!") and be polite, not threatening - they're paying guests, not inmates.
Keys
Give your tenants at least two sets.
If it means cutting fresh sets, test them to make sure they work well.
Don't include your home address on their key ring to be helpful.
If you're letting your home out yourself, leave a spare set with a friend in case of emergencies. At Ivy we ask for our own set.
Bed Linen and Towels
This should be immaculately clean and freshly pressed. Wrinkled, un-ironed duvets really let the side down in your guests' eyes.
Towels are equally important. Guests should have two (nice large, fluffy) towels each, or failing that, one bath towel and a hand towel. Don't forget also bathmats, hand towels and tea towels.
If you host Americans, bear in mind they have a towel fetish so give them enough…
…but ensure that any towels or linen which is not for them is clearly marked as such, or better still, hidden away in your closed-off room.
This is not an exhaustive list but some main considerations. Every home is different. When we take on your home, we comprehensively guide you through each step. 
So how was it for me?
It was, quite frankly, brilliant. 
I appreciated the catalyst to de-clutter and sort out the snagging list which I know still wouldn't have been done today had we not let our house out
It gave me great peace of mind to know our house was occupied when we were away for weeks on end (it's like having house-sitters who pay you!)
We all appreciated returning to a home that was pristinely clean, all beds made up etc
The best part was that it completely paid (and some) for my family of 5, plus nanny, to go on holiday abroad for several weeks
Am I bound to say it was frankly brilliant? Well, yes I am. But it's still true...
So where do things go wrong?
For us, the one bad part was the night before we left. Holiday packing with 3 under 5s is stressful enough and no timely house prep could mitigate that. Mary and I were up till 1am (with alarm set for 6am). As we piled into the car the next morning to race off to Gatwick, it didn't help discovering I had a flat tyre!
The main fear and barrier for owners is the prospect of damage. A trashed house is the nightmare scenario. Here it all comes down to getting the right tenants and we're proud to say that all of our 2,500 families, couples and solo travellers accommodated to date have all been right in this regard, thanks to our vetting process. The worst we've had was wine spilled on a carpet which had to be replaced, and recently an expensively chipped slate table. Telling guests they have lost their security deposit is a horrid conversation to have, especially since you've worked hard to please them and the damage is never malicious. But that's our job...
Further reading
Battersea, Clapham & Putney
If you're seeking quiet seclusion with a generous helping of charm, our vacation rentals in Battersea, Clapham and Putney offer a delightful neighbourhood feel.…
Related posts
Hosting

Ivy's Founder Guy van der West

...

Thinking of letting our your London home? The founder of Ivy, Guy van der Westhuizen lists his top tips for renting your home, from personal experience.

18 Sep 13

Hosting

Easy Ways to Make Your Airbnb

...

Top Tips for Airbnb and Vacation Rental Hosts. Easy Ways to Make Your Airbnb Guest Love Your Home essentials include a coffee machine, microwave etc.

03 Feb 17

Hosting

What Airbnb's 90-day limit mea

...

Are you a London home owner that has been impacted by Airbnb's 90-day limit? We can help you with your short letting options for your vacation rental.

24 May 17