Notting Hill London - The Local's Guide to Sightseeing
21 Oct 15
Notting Hill London - The Local's Guide to Sightseeing
21 Oct 15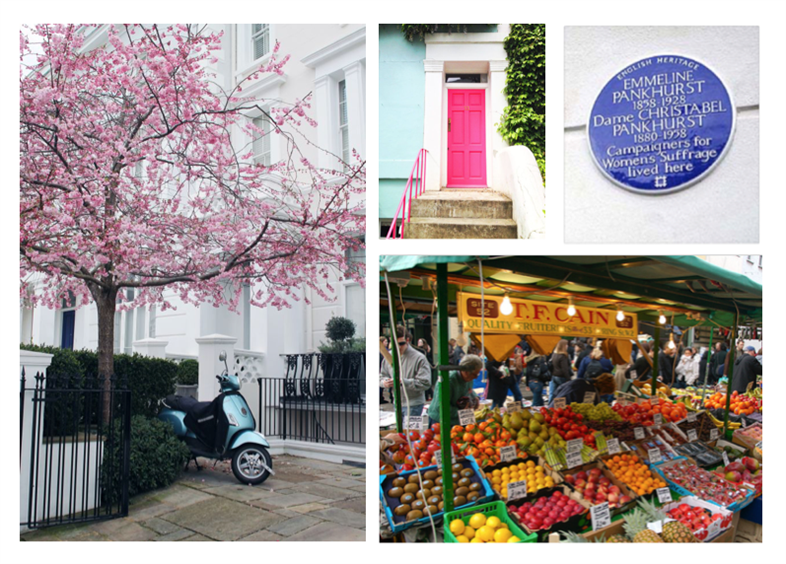 Above, clockwise from left: One of Clarendon Road's townhouses, in Spring; eclectic door paintwork is typical of the Notting Hill area; the plaque outside the Clarendon Road home of Dame Emmeline Pankhurst, a famous Suffragette; one of Portobello Market's colorful fruit and vegetable stands. 
A Local's Lowdown
This is what has always baffled me about Notting Hill, in my 25 years of residence there: how can such a pristinely residential, tree-lined neighborhood be located slap-bang in the heart of Central London? In no other country can you find quiet streets and large detached family townhouses in the middle of a capital city.
I was born at 51 Pottery Lane, a quiet, semi-cobbled street by Holland Park tube station that has recently caught the eye of wealthy Londoners, and following a surge in property prices, is now lined with stone-grey Maseratis. 
Here are my favourite things to see and do in Notting Hill. In my next post, I'll be sharing my favourite addresses of the best places to eat and drink in the neighbourhood.
1. Holland Park – the Kyoto Gardens and Children's Playground 


The Kyoto Gardens (above) are close to the Holland Park Avenue entrance of the park. They always look beautiful in Autumn, when the leaves of the Japanese maples are bronze and burgundy. The Garden was a gift to London from the Japanese Chamber of Commerce over 20 years ago, and is always pristinely maintained. The highlight of the garden is, of course, the peacocks that roam freely, occasionally brandishing their tail plumes if they like the look of you.
The adventure playground is fantastic – I still pass it and wish I could climb and swing with screechingly happy under 12s. 
2. The Museum of Brands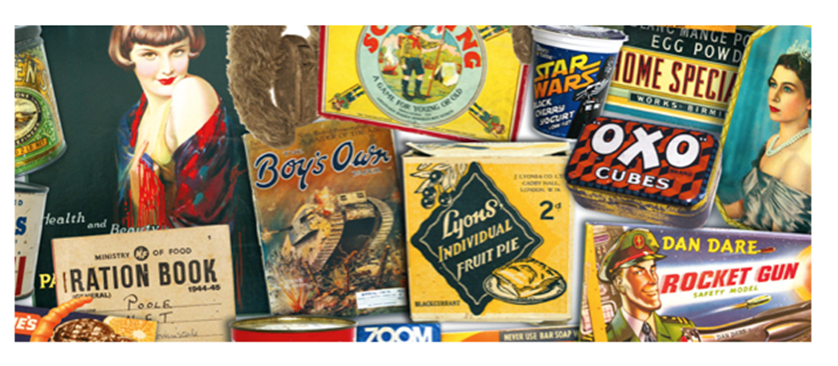 They've just reopened in a larger venue in Notting Hill. The museum is a fantastic exploration of consumer culture in the past century. From 1980s Rimmel makeup to a Chopper bike from the 1970s, you'll find collectors items from around the world. 
Entry: £7.50 adults; £3 children. 
3. Portobello Market
It's a classic, but it's still as good as ever. Many of the stall owners I knew as a child are still faithfully selling their wares – from Une Normandes à Londres, the breathtakingly good cheese stall, to vintage dresses and antique jewellary. If you're staying in an Ivy Lettings vacation rental, and you want to cook, this is the place to buy fresh produce for your meals. The fishmonger is very good value for London, and there are several fruit and vegetable stalls to choose from that sell all sorts of local produce. For the trendier readers amoung you, there's even a new stall selling micro-herbs - the Portobello Mushroom Man - located where Portobello Road meets Talbot Road. If you're feeling hip/experimental, go for the mini-basil, which are delicious sprinkled on everything.
From our Clarendon Road home, you walk up Elgin Crescent until you meet Portobello Road (5 minute walk) and then you can explore the market from either direction.
The market is open on Tuesdays and Saturdays.
4. The Brightest Streets in London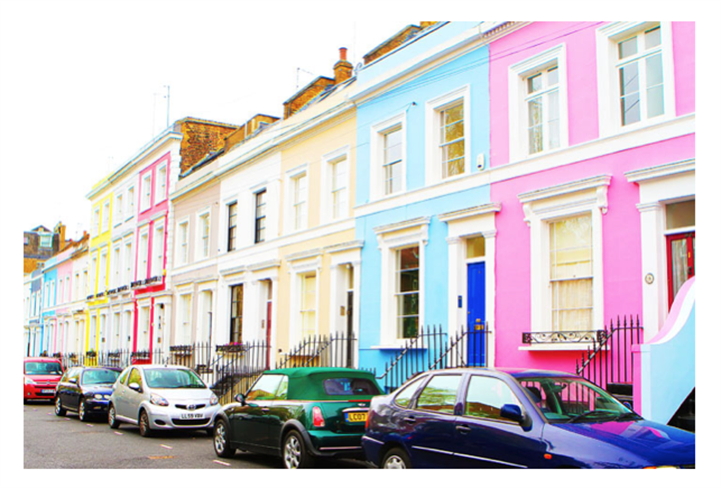 The famously colored houses of Elgin Crescent and Portobello Road are surprisingly peaceful, given that they are some of the most photographed streets in London. I also love Clarendon Road, with it's white, regal, stand-alone homes, including the house where Suffragette Emiline Pankhurst lived.
5. The Quiet Shopper's Haven
Where the Ledbury Road crosses Westbourne Grove, there is a bite-sized hub of some of the best shops London. From a Joseph multi-brand store to iconic British fashion labels like Paul Smith, it has it all. This is boutique shopping without the almost unavoidable bustle of a London High Street; if you can't stomach the crowds of Oxford Circus, I highly recommend Westbourne Grove for a more peaceful experience. Follow the Notting Hill locals to Daylesford Organic for lunch after.
Other shops in this area: French hip brands like Sandro, Maje and the Kooples. Also Pepe jeans, Heidi Klein, Emma Hope, Brora and All Saints. 
NEXT TIME: BEST PLACES TO EAT AND DRINK IN NOTTING HILL AND HOLLAND PARK
Where to stay in the area 
The Luxurious Holland Park 2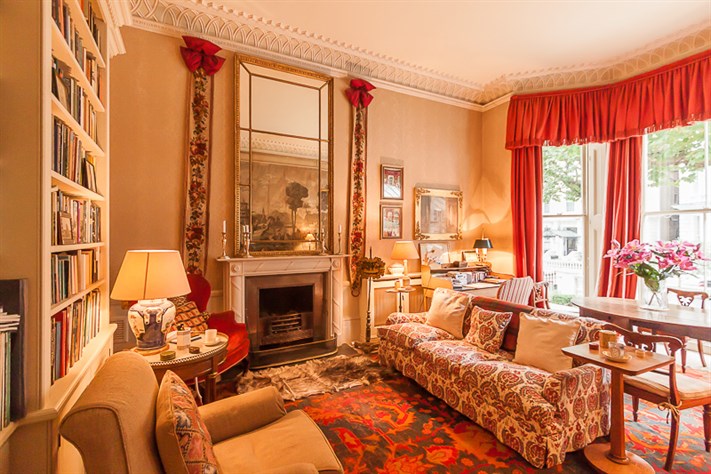 A luxurious 1 bedroom private home on the much sough-after Holland Park, the street that lines Holland Park itself. Whether you're in London as a couple or a single traveller, you're in for a treat. 
Sleeps 2, £210/night. 

Holland Park Avenue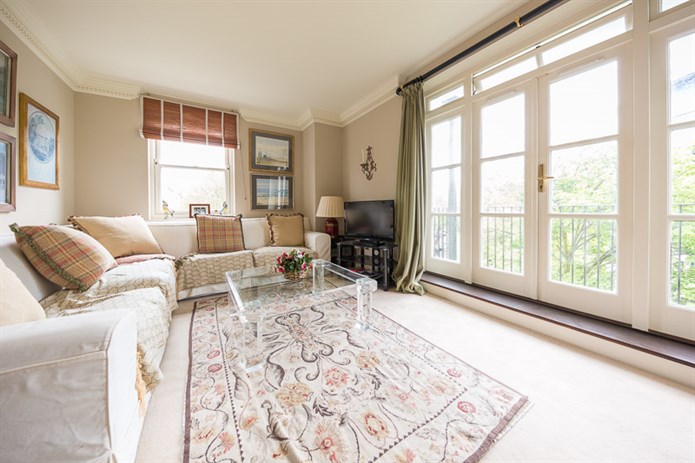 I love this light and elegant 2 bedroom apartment. Take your morning coffee on the balcony, overlooking the tree-lined Holland Park Avenue.
Sleeps 3, £180/night

Clarendon Road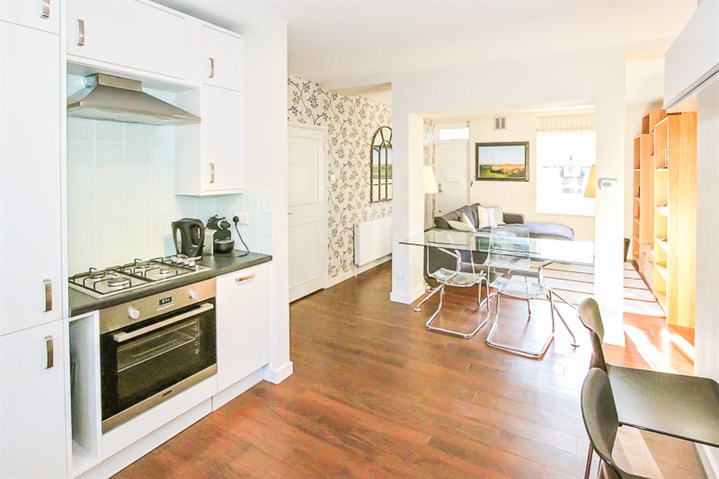 Yes, this is my favourite street in London. Admire the perfect Notting Hill families as they step out for the school run in the mornings, and then come back inside for breakfast in this pretty kitchen. 
Sleeps 6, £214/night

Holland Park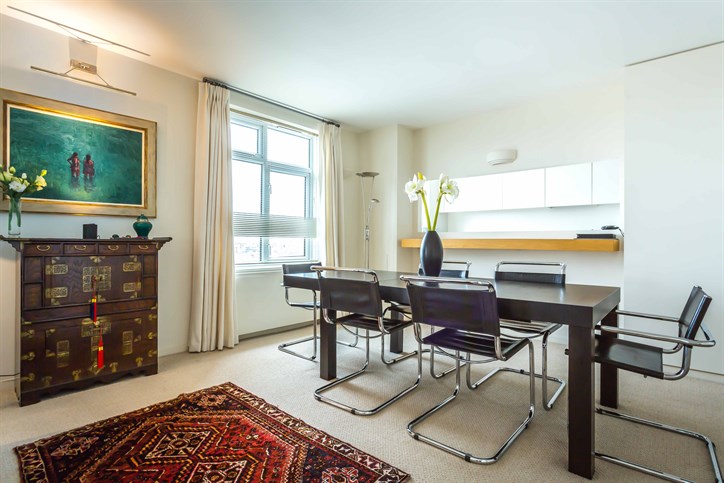 With a twin room and a king sized master bedroom, plus 7th floor views over the surrounding area, this is a jaw-dropper of a vacation rental.  
Sleeps 4, from £222/night. 

Related posts
Visiting London

Top 10 Family-Friendly Easter

...

Easter holidays are fast approaching, so take a look at staying London. With a range of beautiful family homes available choosing your rental is easy!

28 Mar 13

Go to: The British Museum's Po

...

When on your London Vacation do visit the amazing exhibition on Pompeii at the British Museum. The British Museum is a must for any holiday to London.

29 May 13