Oscar Wilde: The Ultimate London Eccentric Lived Across the Street from Paradise Walk
16 Oct 13
Oscar Wilde: The Ultimate London Eccentric Lived Across the Street from Paradise Walk
16 Oct 13
Today is Oscar Wilde's birthday. All of us here at Ivy Lettings have a favourite quotation, be it an epigram, witticism, or even a little gem of wisdom - what's yours? Please share below this post or on twitter @ivylettings!
We think our guests would be thrilled to learn that Oscar Wilde spent most of his London life on Tite Street, which is just the parallel street to the delightful Paradise Walk...read on for more about the man himself!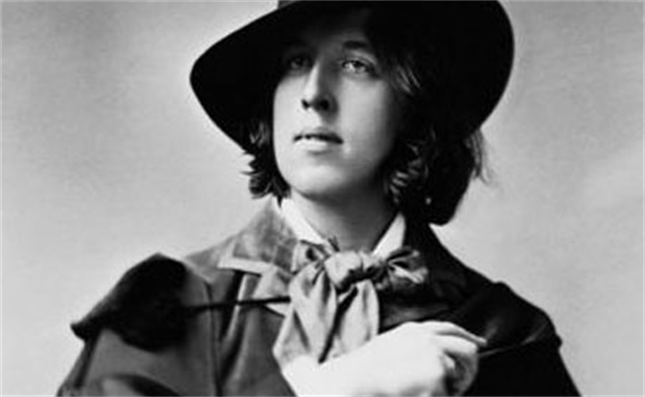 Oscar Wilde, playwright, poet, intellectual and aesthete, started his married life in London SW3, on Tite Street, Chelsea. Our Paradise Walk guests will be intrigued to hear that he lived on the street parallel.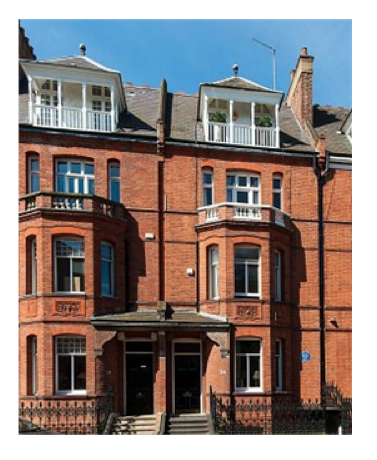 When the newly married Wildes first moved into Tite Street, they had already spent most of their collective income (his wife Constance's dowry, and his own considerable literary and scholarly earnings) on the renovation of the property. One might almost suggest he was hoist with his own petard so to speak – being an aesthete, he had long held forth to his acquaintances in particular and in writing to his more general audience on the subject of interior design, so he felt he had to decorate his own home to the standard others expected of him. About a decade later, Wilde was to be once again hoist with his own petard, but this time with more disastrous consequences – it was here, in Tite Street, that the Marquess of Queensberry made his first fulminating accusation against Wilde, whose own response to such an accusation rapidly led to the tragic court case that in turn, brought about his incarceration and banishment from London society.
Of course, Tite Street is not the only area of London that bears witness to both Wilde's genius and tragedy. He was famed for walking down Piccadilly with 'a lily in his hand', his long hair flowing behind him, was the most sought-after figure in all the most socially important salons, bars and clubs of the time, and was of course, well known on all the stages of the West End. As well as the Law Courts, the Albermarle club, in Mayfair, set the scene for the drama that played out between Wilde, Alfred, Lord Douglas ('Bosie', Wilde's lover), and Douglas' father, the Marquess of Queensberry. This is where the Marquess of Queensberry infamously left his card for Wilde, inscribed 'to Oscar Wilde, posing as a Sodomite', prompting Wilde to take the former to court on a charge of criminal libel. This move led to Wilde's trial for gross indecency, and, subsequently, to his imprisonment.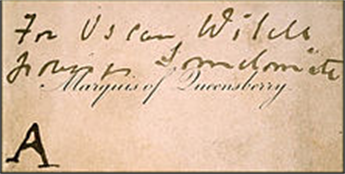 Wilde is most celebrated for his bon mots, plays and children's stories, and is often conceived in the popular imagination as a flippant wit with a sharp sense of humour, a social commentator and, to use the rather abhorrent phrase of the moment 'a national treasure'. There is little room in this conception for a serious and sensitive man of great intelligence and even greater love for all things, people, Art and life.
In fact, far from being a 'national treasure', after his much publicized trial and imprisonment, Wilde was cast out without ceremony and with a good deal of public vituperation from London society. Assuming the pseudonym Sebastian Melmoth (Sebastian after the martyr, St Sebastian, and Melmoth after the eponymous wanderer of Maturin's gothic novel, Melmoth the Wanderer), Wilde fled London for Paris, where he died 'beyond his means' in poverty in the dingy Hotel d'Alsace, alone and heartbroken, but without relinquishing his sense of humour: 'My wallpaper and I are fighting a duel to the death. One of us has got to go'.
He is buried in the Père Lachaise cemetery, rather than in London, where he spent so many of his happiest years and the first of his unhappy ones.
Related posts
Visiting London

Top 10 Family-Friendly Easter

...

Easter holidays are fast approaching, so take a look at staying London. With a range of beautiful family homes available choosing your rental is easy!

28 Mar 13

Go to: The British Museum's Po

...

When on your London Vacation do visit the amazing exhibition on Pompeii at the British Museum. The British Museum is a must for any holiday to London.

29 May 13