Oyster Cards: Everything You Need To Know
07 Oct 15
Oyster Cards: Everything You Need To Know
07 Oct 15
Oyster cards were designed to make travel easier. The Ivy Lettings team want you to feel like London is your oyster, and get you to and from your London vacation rental with ease. So here's what you need to know and what I've learned from getting it wrong more than once. 
The What's, Why's and How's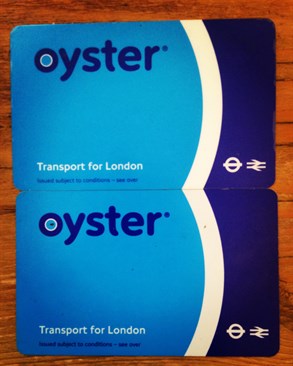 What is an Oyster card?
An Oyster card is a magnetic top-up travel card, for use on trains within the London area. Simply touch the card on the magnetic card reader when you go through the station barriers, and, voila! you're through to the trains.
What transport can I use it for? 
You can use it for buses, trains and tubes – as long as they're within the London area.
How much is an Oyster card ?
They're free – though you will need to pay a deposit of £5 per card, which will be given back to you when you hand back your card to a London Underground ticket office at the end of your stay.
Why is an Oyster card better than a travelcard?
The Oyster has a number of benefits:
-       It may work out cheaper. Travelcards cover your travel within zones 1-4, so even if you don't want to travel to zone 3 or 4, you'll be paying for it.  
-       It's less confusing. There are two types of Travelcard, and it's difficult to make a decision about which zones you're going to travel in when you've just arrived in London and have a handful of suitcases and family members to juggle.
-       If you or anyone you know is planning to come back to London, you/they can re-use the card.
Sounds great – where can I get one?
You can get one from any Underground ticket office. They are usually open until 9pm on weekdays.
How much money should I put on it for my stay?
This is the big question. I've shared my own calculations with you (below), based on the daily cap that the Oyster automatically makes on your daily travel spend in 2015/2016. If you're travelling within zones 1-3, you can take as many journeys as you like on bus, train and tube for £7.50 each day. Here's what I recommend for different lengths of stay: 
For 5 days in London: £37.50
For 7 days in London: £52.50
For 2 weeks in London: £105
For 1 month in London: £232.50
If you're only travelling in zones 1-2, this will be slightly less.
Do children get discounted travel?
Yes. If your child is under 11 years old, they can travel free with you, if you have an Oyster card.
If your child is aged 11-15, then they can get a half-price Oyster card.
Over 15s will need an adult price Oyster card.
Oyster Must-Knows
Put enough money on your card
There's nothing worse than not having enough money on your Oyster to pay for the bus, and then having to find an Underground station to top up, before heading back to the bus stop (trust me – it's a nightmare). So I strongly recommend you put more credit than you need, rather than less, on your Oyster as soon as you purchase one from an Underground station ticket office. You'll be reimbursed for what you haven't spent when you hand back your Oyster to an Underground ticket office at the end of your stay.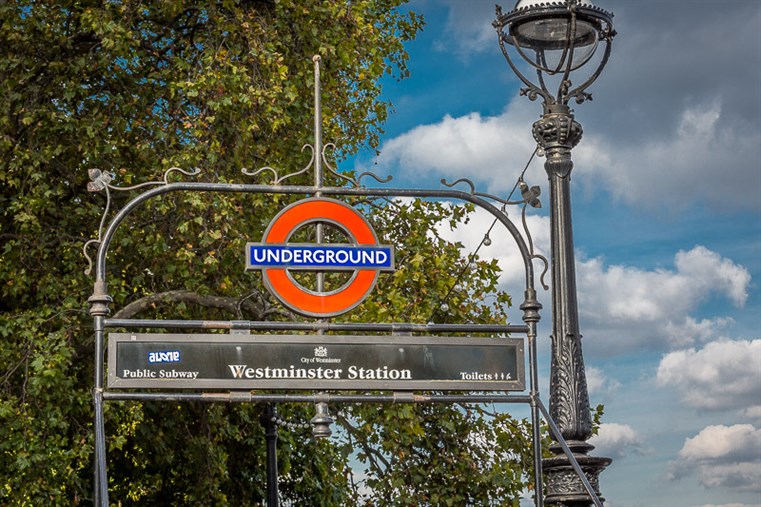 Above: My favourtite entrance to a London Underground statio, at Westminster.
Don't take your Oyster to the airport
I've made this mistake a few times. It resulted in a horribly expensive fine. If you're going to Gatwick, make sure you buy a separate train ticket to Gatwick from Clapham Junction or Paddington.
Remember to get your money back!
A few of our guests have left London with their Oyster cards, and some have as much as £50 left on each card. Oyster cards don't expire – so if you're coming back soon then this might even be convenient. But if you're not planning a return trip soon, don't forget to take your Oyster to an Underground ticket office (as opposed to an Overground train ticket office) before you leave London. Ticket offices at big stations close after 9pm, and smaller stations normally close around 5pm on weekends, and later during the week. If you forget to return your Oyster then you'll have to send it by post to Transport for London, and this can take several weeks for your reimbursement to be processed.
Can I travel using my contactless debit/credit card?
Yes – if it was issued in the UK. If your card was issued internationally, then it could incur fees when used for contactless travel. We recommend that you go for the safe option and purchase an Oyster. Remember, you will get reimbursed when you hand back your card.
Related posts
Hosting

Ivy's Founder Guy van der West

...

Thinking of letting our your London home? The founder of Ivy, Guy van der Westhuizen lists his top tips for renting your home, from personal experience.

18 Sep 13

Explore: London's Stunning Str

...

Take a day trip to Strawberry Hill mansion on your London Vacation. This house is beautiful and steeped character.. the perfect place for exploration!

24 Sep 13

Visiting London

Daylight Robbery: William III

...

Our Vacation Rental Experts are letting you in on a historical gem. If you notice windows bricked up in London you have William III and tax to blame.

26 Sep 13