Renting Out My Home: How Many Keys For Guests?
19 Oct 15
Renting Out My Home: How Many Keys For Guests?
19 Oct 15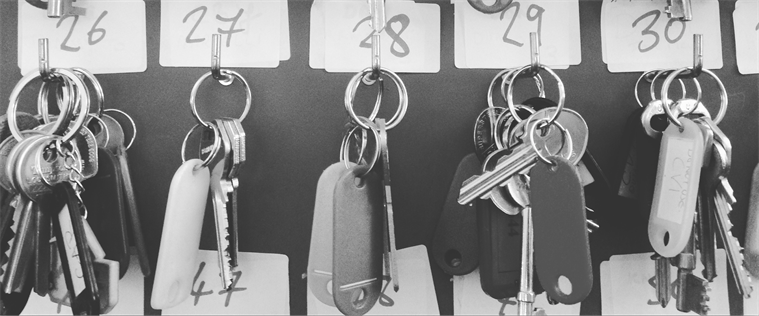 This is the last step to renting out your home, but a really crucial one. Here are our quick guidelines of what to think about before you hand over your keys.
1)    Give your guests at least two sets of keys
Guests will want to use the vacation rental in a similar way to a hotel room, coming and going at different times. You might want to stay at the museum for an extra hour or two, but your husband/teenage son will probably want to take another set of keys and go home. Unlike a hotel room though, giving guests more keys isn't quite as simple as printing a new card at the front desk. We have 4 sets for every property; 2 sets for guests, 1 set for our team at Ivy Lettings, and 1 set for the property owner. Most London homeowners aren't keen to have more than 4 sets of keys for their property, but we are looking into providing more keys for guests in the future.
2)  Test new sets of keys 
There's nothing worse than trying to open the front door with a new set of keys, to find they don't work. Test them first with the old set in your pocket. 
3)   Don't include your home address on the key ring to be helpful 
This is the best way to get burgled, should you or the guest lose the key. We look after over 120 property keys, so we label them with a property code – for example, "PG2" for Parsons Green 2. No house name or address though! If you're renting your home without an agency, it's a good idea to label the guest sets of keys 'Guest' to avoid confusion. 
4) Leave a set with a friend
 In case of emergencies, give a set to a friend for safekeeping. At Ivy Lettings, we always keep a set, so we can organise cleans at the home. This means that our owners always know that they have a set of keys in safe hands - and we'll be happy to drop them off a set should they misplace theirs.
To find out more about how to prepare for a short let, or if you would like to apply to rent out your home with Ivy Lettings, give Beatrice, Alice or Holly of our enquiries team a call on 0207 349 7016 or email us at [email protected] 
Related posts
Visiting London

Top 10 Family-Friendly Easter

...

Easter holidays are fast approaching, so take a look at staying London. With a range of beautiful family homes available choosing your rental is easy!

28 Mar 13

Go to: The British Museum's Po

...

When on your London Vacation do visit the amazing exhibition on Pompeii at the British Museum. The British Museum is a must for any holiday to London.

29 May 13