Short Letting Your Home: De-Cluttering and Depersonalising to Make a Perfect Vacation Rental
13 Oct 15
Short Letting Your Home: De-Cluttering and Depersonalising to Make a Perfect Vacation Rental
13 Oct 15
'Depersonalizing' is a word we use quite a bit with our homeowners at Ivy Lettings. I'll be paraphrasing our Founder Guy's fantastic advice in this blog post and explain what we mean by depersonalizing. I'll also look at which rooms in particular need to be fully cleared and de-cluttered.
Depersonalizing
Though holidaymakers rent holiday homes (mostly) in the knowledge that they are private homes, owned and lived in by someone else, it's always nice for guests when a vacation rental doesn't look like the owner has just stepped out. Depersonalizing means just this – making a home look like somewhere guests can settle into, without being surrounded by the owner's possessions. Guests don't need to know what medicine you keep in the bathroom cupboard, or what was the dinner you had last night and kept in the fridge. 
Above: At Bermondsey Village Warehouse, our Ivy Lettings homeowners have left surfaces clear and tidy. From right to left: the bare minimum in the bathroom, for a clean feel; a clutter-free desk in the study; cookery books fill the shelves in the kitchen.
De-cluttering
It can be difficult to work out what should be tidied away and what can stay. We've been striking the right balance with our vacation rentals for the past 6 years, so here are the rooms to focus on:
The Bathroom
Give your bathrooms a fresh and professional look by clearing everything out. We always recommend for bathroom cabinets to be emptied and toiletries removed from surfaces. We provide soaps for guests and give the bathrooms a good clean so that they look hotel-perfect.
 Above: A pristine bathroom and kitchen at Falcon Grove
The Kitchen
The same goes for the kitchen. Empty your fridge and give it a good clean. Take out everything from the cupboards and wipe the surfaces, making sure there are no spilled spices or foods inside. Unsure what you should leave in your kitchen cupboard? A good rule is to remove half-eaten perishables, i.e. open cereal boxes, bread etc. However kind your intention of leaving guests something to eat, it looks messy and very 'lived in' when there is open food left around. However, it's great to leave guests some kitchen necessities. Olive oil, vinegars, salt and pepper – anything that is bought in a larger supply than is usually needed for a short stay.
Above, from left to right: At Cromwell Crescent, decorative vintage bicycles and suits of armour give the reception room character without making the room feel cluttered; the family kitchen has only useful appliances on the surfaces; a totally cleared bathroom. 
To find out more about how to prepare for a short let, or if you would like to apply to rent out your home with Ivy Lettings, give Beatrice, Alice or Holly of our enquiries team a call on 0207 349 7016 or email us at [email protected]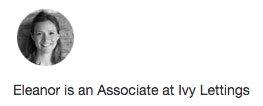 Related posts
Hosting

Ivy's Founder Guy van der West

...

Thinking of letting our your London home? The founder of Ivy, Guy van der Westhuizen lists his top tips for renting your home, from personal experience.

18 Sep 13

Explore: London's Stunning Str

...

Take a day trip to Strawberry Hill mansion on your London Vacation. This house is beautiful and steeped character.. the perfect place for exploration!

24 Sep 13

Visiting London

Daylight Robbery: William III

...

Our Vacation Rental Experts are letting you in on a historical gem. If you notice windows bricked up in London you have William III and tax to blame.

26 Sep 13