The Best Summer Activities in London that Won't Break the Bank: What to See and Where to Eat
17 Jul 13
The Best Summer Activities in London that Won't Break the Bank: What to See and Where to Eat
17 Jul 13
I found my mojo today: my boys have finished school, the sun is out and we are packing up for some much needed family fun.
A week in London can be spent in a number of exciting ways: eating good food, whether it be a picnic in one of London's beautiful parks or a family meal somewhere more salubrious; enjoying a theatre show; browsing Covent garden; or simply sightseeing on an open-top bus. Let's face it: our capital city is literally jam-packed with interesting activities and attractions, providing fun for all the family.
Booking a house or apartment means that you can come and go at your own pace, snuggle up in the evening and enjoy a movie, or sit at a table playing cards and chatting. The bottom line is that it's your own space to enjoy quality time together.
So what's on in London for summer 2013?
Summer Savers: A Few ideas That Won't Break the Bank
Theatre is a fantastic way to enjoy an afternoon or evening out, but it can be expensive. Take a look at Kids Week from 1st – 31st August, however, and you'll see a child aged 16 or under gets free entry to a selection of shows when accompanied by a paying adult, while two additional children can go for half price: a huge saving!
The Museum of London is home to the exhibition Opening the Olympics: with memorabilia from last summer's Olympic Games, including Tom Daley's swim shorts and an Olympic torch, you can experience some of the most memorable moments from this historical event.
If the weather is warm and you fancy something a bit different, why not head to Hampstead Ponds for a dip? Entry to the fresh water ponds is only £2, providing a great way to spend a sunny, summers day.
Pack Up a Picnic and Head to the Park
I am obsessed with picnics: there's something really lovely about putting together your favourite foods, carefully wrapping and packing them into a hamper. For me, it's a mini adventure: rugs, bats and balls and sometimes even the dog are all part of our picnic kit! London has some beautiful outdoor areas and parks to boot, so I'd like to share a few of my favourites.
Alexandra Park is perfect for a picnic: the views are breathtaking and there is plenty to keep you occupied with a pitch and putt course, a soft play area, gardens to meander through and a boating lake. If you're still hungry once the hamper is empty there are plenty of outdoor eateries where you'll find a treat or two. The weekly famers' market is worth a visit to stock up for supper before heading home. 
Crystal Palace Park is great fun, with its large sculptures of dinosaurs to thrill budding Palaeontologists. Not only is it home to a large collection of prehistoric monsters, however, but a children's petting farm, playground and maze. Whiling away an afternoon here is sure to be fun for everyone.
Hyde Park is, and always will be, a firm favourite of mine: covering 350 acres, this fabulous open space is really rather special. There's a large lake, gardens, tennis courts and an impressive children's playground. Remember to pack your swim suits, because from June to September you can swim in the Serpentine Lido (there's also a paddling pool suitable for little ones).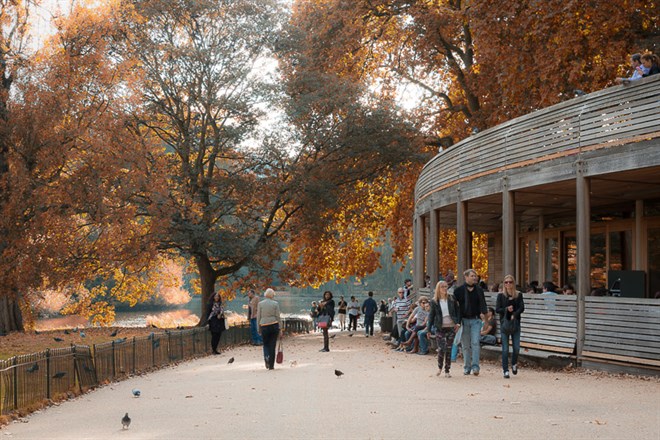 Above: The stunning Hyde Park, with golden autumn leaves
Culture and Exhibitions
Regents Park Open-Air Theatre is hosting an array of shows for its Summer Season; from Dinosaur Zoo (an interactive puppet show) to The Sound of Music and Pride and Prejudice, there will be a production to suit every taste.
The National Maritime Museum is host to the exhibition Visions of the Universe, which is running until the 15th of September. A fascinating and captivating look at the stars and planets, it features everything from some of the earliest hand drawings of space to photographs taken by the Hubble space Telescope.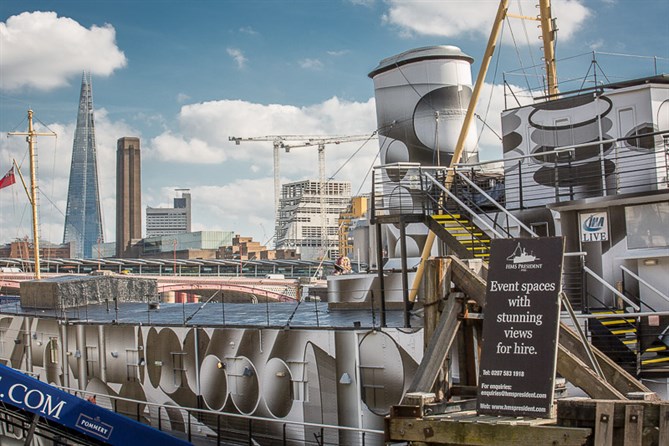 Above: London's ships are well worth a visit - a fantastic way to spend the day for children and grow-ups alike 
The Imperial War Museum has a new exhibition that opens on the 29th of July: Horrible Histories Spies. Here, you will learn about spy techniques used during the second world war, and throughout the summer holidays there will be several family-oriented and spy-themed events. Intriguing fun for adults and children alike!
Where to Eat
Covent Garden is now home to a new burger restaurant, the American chain Shake Shack: for a quick no-nonsense lunch, it is well worth a visit, with good quality burgers and crispy fries. If it stays sunny, why not sit outside and watch the hustle and bustle of Covent Garden as the kids cool off with a cold drink?
A favourite of ours is Italian chain Carluccios. We've eaten in several of its restaurants in and around London, and always enjoy our experience. Family-friendly and with good food, you can also get a decent glass of wine with your meal.
With a variety of accommodation available throughout London, and so many activities and events taking place this summer, finding some time to spend in our vibrant and versatile capital is definitely worthwhile. For more ideas and information on what to do and see, simply visit http://www.visitlondon.com/things-to-do/whats-on/special-events/london-events-calendar
Written by Kirsti Banyard, a travel writer for HomeAway.
Related posts
Hosting

Ivy's Founder Guy van der West

...

Thinking of letting our your London home? The founder of Ivy, Guy van der Westhuizen lists his top tips for renting your home, from personal experience.

18 Sep 13

Explore: London's Stunning Str

...

Take a day trip to Strawberry Hill mansion on your London Vacation. This house is beautiful and steeped character.. the perfect place for exploration!

24 Sep 13

Visiting London

Daylight Robbery: William III

...

Our Vacation Rental Experts are letting you in on a historical gem. If you notice windows bricked up in London you have William III and tax to blame.

26 Sep 13