Top 10 Family-Friendly Easter Activities in London
28 Mar 13
Top 10 Family-Friendly Easter Activities in London
28 Mar 13
The Easter holidays are fast approaching, so why not have a look at what is going on in our capital city? With a variety of fantastic family accommodation available creating a tailor-made Easter break is easy: egg-citing!
Our top ten egg-triguing (yes, I know I'm pushing it!) Easter activities…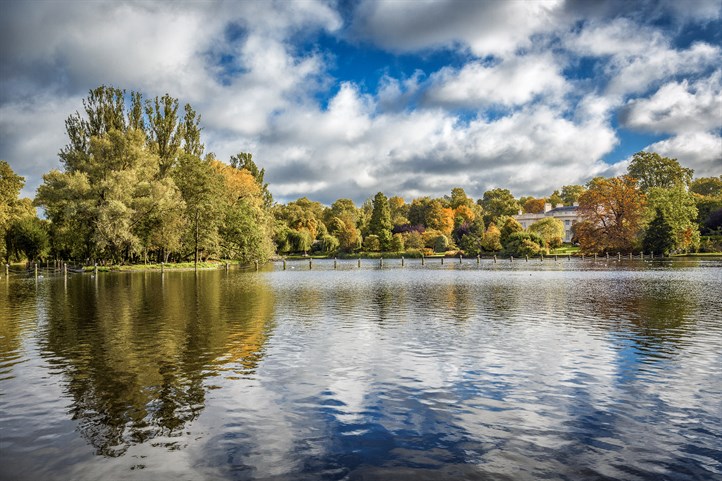 Above: watch the famous Oxford and Cambridge Boat Race unsettle the still waters of the River Thames
1. WWT London
Originally named the Severn Wildfowl trust, WWT was founded by Sir Peter Scott in 1946. The original vision behind the trust's creation was that of bringing together wildlife and people. Why not enjoy the fruits of their conception this Easter? The WWT has loads going on that will be enjoyed by all age groups. As well as egg painting and fun activities such as an egg and spoon race and life cycle relay race there is an Easter egg hunt and much more! If the weather is inclement then activities will be held inside – so whatever the weather a fun day is guaranteed!
2. Cutty Sark – the National Maritime museum
Visiting the National Maritime museum in Greenwich is a great day out at any time of the year. With stories recounting Britain's sea voyaging history - spanning some 500 years - there are some intriguing and exciting stories. The Cutty Sark is the last surviving tea clipper ship and well known world-wide – step aboard and search for hidden treasures in the form of chocolate eggs! An Easter egg hunt aboard the Cutty Sark is sure to be an egg-citing experience!
This new production is an enchanting story that incorporates a mix of live music and magic. I predict little mouths wide open in awe at this performance, and with a chocolate egg for everyone, there will be no shortage of smiles!
4. The Boat Race Oxford v Cambridge
Two teams from the UK's most prominent universities, Cambridge and Oxford, slog it out in a rowing race on the River Thames. As one of the oldest sporting events in the world, the Boat Race is an exhilarating sight: pick your colours and cheer your team on, joining thousands of spectators enjoying this fabulous event.
Leading on nicely to…
5. The Goat Race Oxford v Cambridge
The Goat Race is held on the same day each year as the Boat Race, and this year, March the 31st is the date for this fun-filled event. Now in its fifth year, the Goat Race sees two Goats; one representing Cambridge, and the other Oxford! Both slog it out in a race at Spitfields City Farm, with proceeds going towards the running of the farm itself.
6. St Martins-in-the-field – Church in Trafalgar square
If you are looking for somewhere to worship over this religious time, then St Martins-in-field is located right in the heart of London. Situated in Trafalgar Square, it offers a variety of services over the weekend, with its gorgeous Georgian architecture and welcoming dynamic making it a particularly special experience.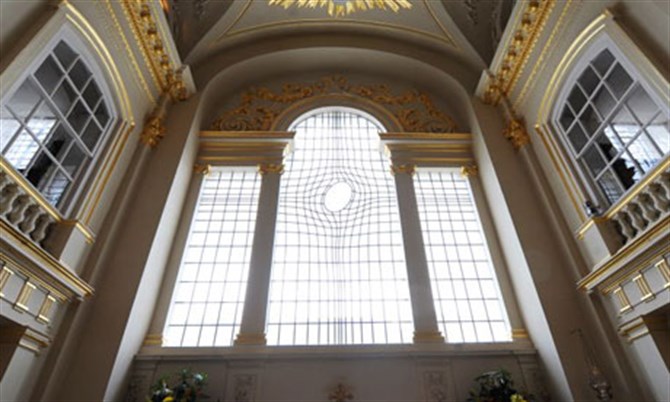 Above: The magical stained glass window of St Martins in the Fields. Photograph by Linda Nylind 
7. Clapham Common Easter Funfair
Clapham Common is home to 220 acres of beautiful green landscape, and often acts as a venue for music concerts and a variety of festivals throughout the year. Near to a number of restaurants and bars, the common is the perfect spot for a funfair. Enjoy the dodgems and a ride on the carousel, or if you're brave enough, try one of the white knuckle rides. Enjoy all the fun of the fair this Easter!   
You can always expect to discover a diverse breadth of information at Kew Gardens, and this Easter, you can learn about something close to all of our hearts: CHOCOLATE! Join the Chocolate Quest,an adventure trail for the sweet-toothed, which will take you through the history of this delectable confectionary. From the tropical rain forest, where you will discover Mayan cacao drinks, to the Spanish explorers and the part they played in the discovery of chocolate, there's so much to take in. Also taking place will be an Easter egg hunt, a chocolate making workshop and a face painting event: using a chocolaty theme, of course!
9. Help! My Supply Teacher Is Magic at the Purcell Rooms
Based on the popular CBBC TV series, this thrilling, magical feast is performed by magicians from the TV show. It's a truly amazing performance and promises something for all of the family.
10. Kensingston Palace – A Royal Easter
Enjoy a day of style and history at the majestic Kensington Palace. From the 29th of March to the 1st of April there will be a fabulous Easter egg hunt: all you have to do is follow the clues to win a chocolate prize! There is also a Bonnet making competition where the next Philip Treacy might be discovered!
A break in London is always a treat: my children love the tube (odd, I know!), as well as the open-top buses. However many times they see or visit London's main attractions, they always want to come back for more! With the Shard, London Dungeons, Theatres, The London Eye and so many more iconic and famous sites and attractions on offer, you will be sure to have an egg-cellent Easter! Enjoy!
Written by Kirsti Banyard, a travel writer for HomeAway.
Related posts
Visiting London

Daylight Robbery: William III

...

Our Vacation Rental Experts are letting you in on a historical gem. If you notice windows bricked up in London you have William III and tax to blame.

26 Sep 13

Visiting London

Top 10 Family-Friendly Easter

...

Easter holidays are fast approaching, so take a look at staying London. With a range of beautiful family homes available choosing your rental is easy!

28 Mar 13

Visiting London

This Weekend in London: 22nd -

...

On vacation in London. Here are some top tips of things to do in the capital city this weekend including two brand new exhibitions and a winter walk.

22 Jan 16