Written Instructions and Welcome Book for Your Vacation Rental Guests - Dos and Dont's
16 Oct 15
Written Instructions and Welcome Book for Your Vacation Rental Guests - Dos and Dont's
16 Oct 15
It can be tempting to leave a mass of sticky notes around the house to remind guests to abide by house rules. After all, what if guests don't take their shoes off? Or try to force the washing machine door open before the door unlocks? Or wear stilettos on your new wooden flooring? Don't confuse a polite note with a bossy scribble; here's are our 5 top tips to keep your guests informed with a welcome book, without putting them off 
Neat and tidy 
Don't underestimate the welcome folder. It's a neat way to present a guest with all the instructions that they need about their holiday home, as well as information and recommendations on the local area. At Ivy Lettings, we use a translucent lever-arche folder and insert clear pockets inside with house instructions (what we call an 'information document') as well as a map with nearby grocery stores, pubs and restaurant recommendations. Amazon's translucent lever-arch folders are a good option at £7.12 & free delivery, and any of these clear pockets are good.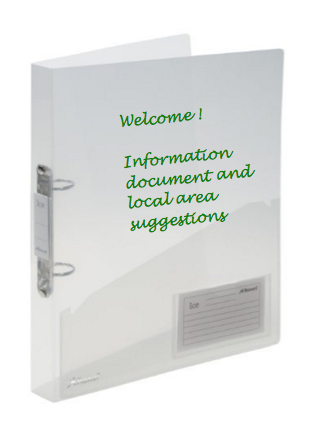 Short and sweet
Keep it concise – don't burden your guests with page upon page of house rules (which they probably won't read). The Ivy Lettings information document is never more than 2 pages.  If there are too many things to 'bear in mind', consider whether your house is vacation rental-ready.
It's all in the presentation
When really necessary, do leave notices, for example to remind guests to double lock the front door. We recommend laminated A6 record cards (like the ones below, £1.69 from Amazon), which are a good size and look neat and professional. Write short and sweet instructions on these, and you'll find guests will be more inclined to do what you've asked.
 Keep it minimal
Positive notices are a no – guests don't need a sign above the sink wishing them a 'Good morning!' It feels like you're talking to them from the bathroom.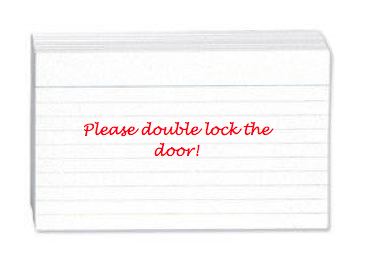 Take your time
Give your local area recommendations sheet some love. As a guest, it really makes a difference when homeowners have taken the time to pick out their favourite restaurants and attractions in the local area. I once had a vacation rentals host abroad leave me information on not only what day the food/vintage markets were open, but also which stalls were the best, the names of the vendors who ran them and which products I should try. It made me feel like a savvy, confident local. 
To find out more about how to prepare for a short let, or if you would like to apply to rent out your home with Ivy Lettings, give Beatrice, Alice or Holly of our enquiries team a call on 0207 349 7016 or email us at [email protected] 
Related posts
Visiting London

Top 10 Family-Friendly Easter

...

Easter holidays are fast approaching, so take a look at staying London. With a range of beautiful family homes available choosing your rental is easy!

28 Mar 13

Go to: The British Museum's Po

...

When on your London Vacation do visit the amazing exhibition on Pompeii at the British Museum. The British Museum is a must for any holiday to London.

29 May 13