A Home Away From Home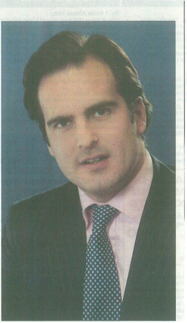 BRAIN FOR BUSINESS
Visitors and working-holidaymakers want more from London than a stint in a drab, over-priced hotel. South African-born entrepreneur Guy van der Westhuizen aims to give them just that through his innovative short-term rental company. The South African asked him how he's using his background to build his UK business
LINDY TIMM
Where did you grow up?
I spent the first few years of my life in Johannesburg before my family moved to England. Since then I have lived between Oxford and here in London, where I moved permanently in 2001 to attend law school. I maintain strong connections with South Africa though, with family in Cape Town and Durban who I visit frequently.
Tell me about your business. What is your role? We are residential short-lets specialists, arranging accommodation for travellers visiting London - or often Londoners moving house - for any period of time between three nights and six months and sometimes  longer.  We  have  a portfolio  of  75+ centrally-located properties, from studio flats to six­ bedroom Chelsea townhouses. Prices range from
£500 to 5 000 per week. Essentially, we offer a more economical, personal and  interesting  alternative to hotels and serv:)ced apartments. I founded the business and run it on a day-to-day basis.
What inspired you to start up Ivy Lettings?
The experiences of my South African family and friends visiting London, which taught me that visitors to London are largely unimpressed by the city's hotels: either they are hugely expensive or very drab and poor quality - and very often both! Having to eat out for at least two meals a day, which is not cheap in London, also adds to the expense. It struck me that travellers would prefer to stay in a self-catered home which is indicative of London instead. There are plenty of properties like this, mostly second homes, which have allowed us to pick and choose a fantastic selection.
How has your background as a lawyer helped with the functioning of your busineSs?
Hugely. It's been a massive help in everything from incorporating the company, to drafting lease agreements and everything in between that requires attention to detail. Perhaps most importantly, I think clients on both sides greatly appreciate the professionalism  which  sticks  out  a  mile  in  the scam-plagued London vacation rental industry and general real estate market, which has never been too close to Londoners' hearts ... .
Why do you think the option ofletting out homes appeals to home owners?
Firstly, money. So many people have second homes in London that they use infrequently but enough to prevent them from letting them out long term, which means for large amounts of the year their properties are wasted assets. Secondly, peace of mind  and security; homes need to be lived in and whenever you are away for a few weeks or months it gives comfort to know that your home is being looked after rather than lying empty.
What has the response to your business been like so far?
Phenomenal - our portfolio grew from three to 75 properties in 100 days and it continues to grow. We can now afford to be very selective about new properties we take on. Travellers using our service have raved about it, which is really pleasing, and we've had a lot ofinterest from companies too whose budgetry constraints  mean expensive hotel  stays for visiting staff are a thing of the past but who are still looking for high quality, conveniently-located accommodation. We've had some very flattering coverage in the Antipodean press also, which keeps us busy with a steady flow of enquiries!
Has being a South African in the UK helped you to tap into the Antipodean market?
Definitely- there is certainly a shared openness of mind amongst Antipodeans which makes dealing with one another easier. People are always slightly confused to hear an English accent coming from somebody with such a South African  surname but being able to establish a bond through shared nationality really helps develop relationships, which is key to us. This is especially valuable in a city like London, which is so huge and often so anonymous. It also helps that my mother's a Kiwi!
What's the most important lesson you have learnt about business?
I am very much still learning but so far... reputation, reputation, reputation -treat your customers like kings and they will do your marketing for you. This is especially true of this  business.  When holidaymakers  return  home,  their  vacation  is always  a topic  of conversation  and  my  goal is for their (hopefully great) experiences with Ivy Lettings to be shared in that way.
Do you feel  there  are  more  opportunities in London for people starting a business or career than there are in South Africa?
I don't believe the one million South Africans are over here for the weather, put it that way! To be honest, I am not sure either are particularly fertile grounds just at the moment, but believe that London's challenges are more of a transitory economic nature, rather than an endemic political one. What I have definitely noticed from my experiences working in a City law firm and a US investment bank is that the work ethic of South Africans is absolutely invaluable and in that way they will always be able to forge opportunities where apparently there are none.
 For more information on  Ivy Lettings, visit: www.ivylettings.com or call 020 7349 7015.