Introducing Ivy Lettings, the London short lets specialist
When Guy van der Westhuizen lost his job in the city, he wasn't looking to start up a business.
"It happened by accident," he says. ''I'd been made redundant and my wife was on maternity leave, so we started spending more time in Oxfordshire where our parents live. We'd go down for a week or two at a time so I thought we should try to let out our flat in London."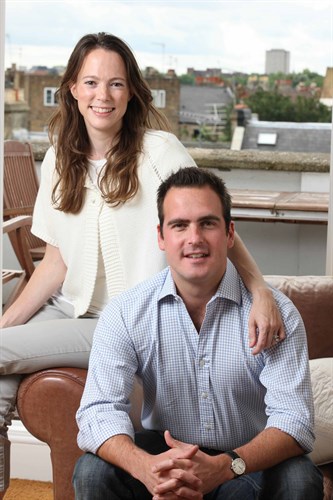 Guy approached a letting agent and put an advertisement online, which prompted an inquiry from a family from New Zealand, who were interested in renting for a week while they were visiting London. Meanwhile, the letting agent secured a tenant for five weeks - longer than Guy had hoped for, but he decided to take the money and go to France with his wife Mary and daughter Claudia. "I felt guilty about the New Zealanders though, so I spoke to a friend's mother who has a vacant basement flat, and it turned out she was very happy to rent it out." The family from New Zealand paid £585 for the week; cheaper than a hotel, yet a tidy sum for the homeowner.
Inspired by this, Guy decided to pursue the enterprise. "My plan was to create a small-scale letting business, renting people's houses out while they're on holiday, or away for a few weeks, ensuring viability from a cost and hassle perspective. Some people feel slightly funny about leaving their homes empty; this way they benefit from a paying house sitter," he says.
Ivy Lettings seems to have struck a chord in the recession. "I have more properties coming onto my books every week yet demand is exceeding supply," Guy says. "Every morning I have about 25 emails from people wanting accommodation in London. They'd rather rent a house than spend their poorly exchanged currency on a charmless hotel room, where the only merits of catering is a kettle and a tea bag."
Having practised as a lawyer, he prepares formal lease agreements and has devised a strict vetting procedure for potential tenants. The lease is signed by both parties, a security deposit is taken and the whole amount of rent is paid in advance. 'I wanted to make the thing as hassle-free as possible for the home owners, and give them complete peace of mind,' Guy says.
Some properties aren't suitable for the lets: either they're too shabby, or too far from public transport, or in an undesirable area. 'I have clients on both sides. I have to keep them both happy.' he says. Only properties within 20 minutes of the centre of London are considered and they must be within easy reach of a tube or railway station.
A team of cleaners prepares the property for the tenants' arrival (fresh linen and towels, wardrobe and fridge space). "The owners pay for the first clean and the tenants pay for a second at the end of the tenancy," Guy explains. "All the owners have to do is lock away possessions they don't want on show, otherwise the properties m·e let precisely as they are.
Since it is usually private houses that are being rented out, Guy does not insist pictures of the property appear on the website. Advertising has been mainly through word of mouth and the home owners need never deal directly with the tenants. Airport transfers, taxis. babysitting, theatre and restaurant can all be arranged through Ivy Lettings; tenants are met at the property, and given an information pack.
So far many of the tenants have been Antipodean, in their fifties or over, visiting family in London. The typical landlord profile varies from a family going on holiday for a week to a young professional vacating a flat to go travelling for three months. "It presents a solution to monetise your home when you're away. What's fascinating is a lot of people who work in hedgefunds or for banks want to take it up. It also works well for people who have second homes in London that they only use for one or two weeks a month. They appreciate the extra income."
Rental prices are dependent on size, condition and location of the property. "It's a simple question of ow much the owners expect to get and how much the tenants would be prepared to pay and striking a balance between the two," says Guy.  A three-bedroom town house in Chelsea, which can sleep six, rents out from £1,450 per week, while a two-bedroom maisonette in Brook Green with roof terrace costs from £600 per week. Both home owners and tenants need to be relatively free-spirited. "Your property is rented out almost exactly as it is. You can be imaginative about how many people it sleeps by including sofa-beds. Tenants don't expect it to be perfect - they're paying much less g than they would to stay in a hotel, where you have to eat out for at least two meals a day. And in the meantime you're getting someone to keep an eye on your house when you're not there," Guy says.
+For more information see www.ivylettings.com
ivylettings.com or call 020 7349 7015.
Ivy Lettings currently operates in London, but will soon be expanding to the regional market.
To see this article in its original context, please visit http://www.telegraph.co.uk/property/rentingproperty/5972733/Short-lets-turning-homes-into-holiday-lets.html
N.B this site is a subscriber-only site.