The benefits of a brief relationship: high returns on short lets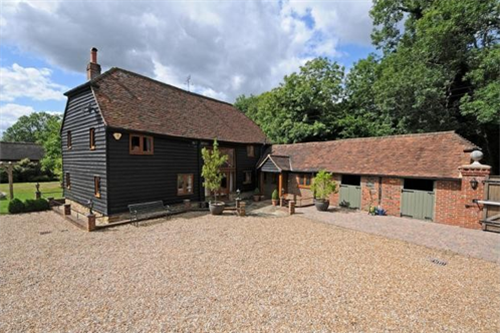 This four bedroom, four bathroom converted barn in West Sussex is available through Hamptons International for £1,500 a week.
Lauren Thompson
Last updated at 12:01AM, December 6 2013
Fancy bringing in some extra cash this Christmas? Then think about renting out your property on a short-term basis
Renting out a property on a short-term basis can be a lucrative business, especially over the festive season.
Lets that last from a few nights to six months can offer higher returns and greater flexibility than longer tenancies. Demand often spikes over Christmas and new year from international holidaymakers, shoppers or those simply wanting to escape their in-laws.
Emma Pankhurst at Ivy Lettings, a London short-let specialist, says: "Many of our landlords have a flat in London they use occasionally but do not need all the time, so short lets are a great solution.
"You can charge about 20 per cent more over Christmas and New Year's Eve because demand is so high from visitors looking for an alternative to hotels."
Festive premiums aside, landlords typically can charge between 30 and 50 per cent more rent for a short-term stay than a long-term tenancy, making returns look enticing throughout the year. Ivy Lettings has a one-bedroom apartment on Cadogan Place, West London, from £195 a night —  still relatively good value compared with a hotel.
Other hotspots include the centre of university cities such as Oxford, Cambridge and Birmingham. Nigel Griffith, lettings manager at Hamptons International's Oxford office, says: "In Central Oxford landlords can roughly charge per week what they would normally get per month on a longer-term tenancy."
Some landlords let their main property if they often work away from home, but this doesn't mean that they have to give it up over Christmas. Claire Bramwell-Pearson and her husband Christopher, both 54, are renting out their five-bedroom home near Bath as they decamp to London while their daughter studies at the Royal College of Music.
Mrs Bramwell-Pearson, a graphic artist, says: "We only allow tenancies during term time, which means we get to enjoy the cottage during Christmas and the summer holidays. It's a gorgeous family home and we wanted to keep that flexibility." The cottage is available through Hamptons International for £2,500 a month.
However, rewards come with responsibilities, costs and risks. Short lets have higher marketing and maintenance costs because of the high turnover of tenants. You must have a fully furnished property in excellent condition with good TVs, wi-fi and parking. You also must pay for utility bills, arrange adequate insurance and carry out gas and electricity safety checks.
Tenants may pay a deposit but, since they often pay in advance, are not usually subjected to rigorous identity or credit checks. This means that landlords can be less certain who is in their property, although you can stipulate, for example, no children under 10 or couples under 30.
It is easiest to use an agent to find tenants and manage their stay, but expect to be charged about 20 per cent of the rent. For this fee, agents should take care of everything from finding tenants and checking them in and out, to ensuring that the property is cleaned and linen provided.
Jane Ingram, head of residential lettings at Savills, adds: "Beware that some local authorities in London, such as Westminster and Kensington & Chelsea, do not allow you to rent a property for less than 90 days.
"And if your property is leasehold, the lease may stipulate a minimum sub-let time of, say, six months. You also need to get permission from your mortgage lender as some prefer minimum rentals of six months."
It is vital to have a high-quality property in a good central location if you want to attract tenants throughout the year. Hotspots tend to be near large companies or universities for corporate clients, or popular tourist destinations for holidaymakers. You may even find yourself with celebrity residents, since short lets are often used by film casts and crews.
Nigel Griffith at Hamptons says: "Demand in Oxford comes from the good hospitals, research labs and a science park where staff need short-term accommodation, as well as parents visiting their children at nearby boarding schools. Many tenants are also forced to rent temporarily before moving into new homes."
Kate Faulkner, at advice site Propertychecklists.co.uk, adds: "Being near theme parks, sport centres or exhibition centres such as the NEC in Birmingham may also help to secure a steady stream of tenants.
"If you have a more remote property that is typically used for holiday lets, you may struggle more in the winter months. Good returns can be made if rented out for New Year's Eve parties, but it needs to be really well presented and marketed online with lots of positive feedback on sites such as TripAdvisor
To read this article in its original context, please follow this link: http://www.thetimes.co.uk/tto/life/property/lettingsmarket/article3940136.ece
N.B this is a subscriber site.