Short Letting Your Home: What Appliances Do I Need When I Rent My Home?
13 Oct 15
Short Letting Your Home: What Appliances Do I Need When I Rent My Home?
13 Oct 15
You've deep cleaned and de-cluttered, now, what do you need in your home to make it a suitable vacation rental?
Most of our guests come from abroad, and they're used to having appliances not found in all London homes, like separate washing machines and tumble dryers, smoke alarms and Air-conditioning. Here are some common concerns of holidaymakers hunting for a suitable vacation rental, and how we respond.
I need to dry my clothes!
We often find that guests want a tumble dryer. This is a basic appliance for travellers from the United States, who are often surprised by the washer/dryer combination appliance. Some of our homes offer drying racks, some washer/dryers and some separate tumble dryers, and we find guests are often much happier with a separate tumble dryer.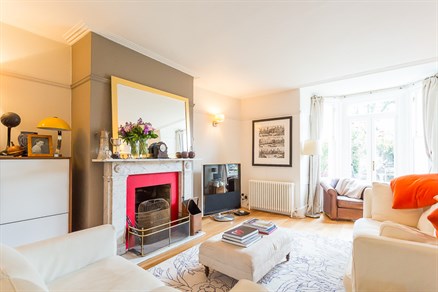 Above: The all-important TV and DVD player at Park Road                 
I need to dry my hair!
Hairdryers are a bore to lug around in your suitcase when you travel. All Ivy Lettings properties come equipped with a hairdryer. We highly recommend that you provide your guests with one and add it to your property listing.
I need to heat up my food!
Microwaves are an essential. Guests will be hungry from sightseeing around London, and in need of quick sustenance.
I need a coffee!
All Ivy Lettings vacation homes come with a French press so that guests can make coffee in the morning. We recommend a cafetiere over an espresso machine as filter coffee isn't as expensive for you or your guests as espresso capsules.
It's nice to provide some good real coffee as well, so that guests can have a coffee before they set out in the morning.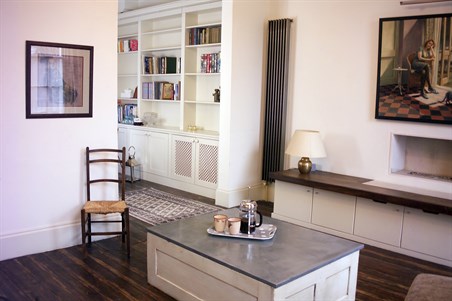 Above: A cafetiere of Fresh coffee makes for a peaceful morning at Park Road.  
I want to watch a DVD!
We find that families are increasingly travelling with DVDs for their children. Treat yourself as well as your guests, and gift your home wiht a DVD player.
Toast, please!
We often get calls about toasters. A good toaster is the staple breakfast appliance, so if yours is a bit old/only toasts 1 piece of toast at a time/continuously burns toast, it's a good time to get a new one.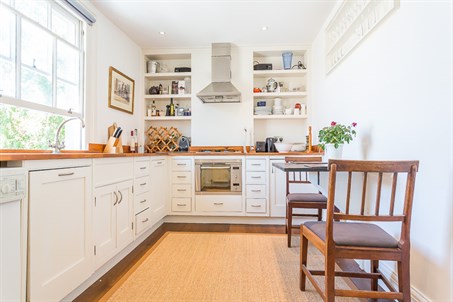 Above: Oils and vinegars line the shelves at Justice Walk, knives and a wine rack are also left for guests use. 
What if the house gets too hot?
Guests from abroad often expect air conditioning. It rarely gets hot enough to need it, but we do supply fans to guests when a heatwave is forecasted in London (and remind them how lucky they are!) Even if it isn't necessary, set your guest's mind at rest and have a fan available
I want to read a book in bed!
The ultimate luxury – to have a quiet moment before bed to read a book. A bed side lamp is 'homely', it's part of why people rent vacation homes rather than stay at a hotel. So make sure you've got a good one with a fresh light bulb by all beds (both sides!)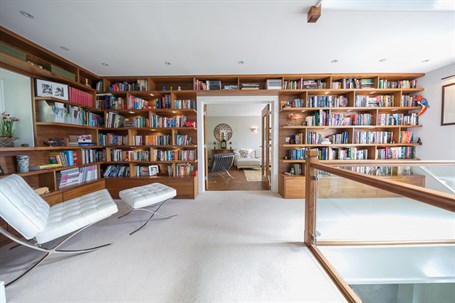 Above: Books galore for literary-hungry guests at Clavering Place
Kitchen supplies!
In our last post on our top tips for short lettings your home, we went through 'depersonalising' – in particular cleaning out open foods from the kitchen. However, it's great to leave guests some kitchen necessities. Olive oil, vinegars, salt and pepper – anything that is bought in a larger supply than is usually needed for a short stay.
To find out more about how to prepare for a short let, or if you would like to apply to rent out your home with Ivy Lettings, give Beatrice, Alice or Holly of our enquiries team a call on 0207 349 7016 or email us at [email protected] 
Related posts
Visiting London

Top 10 Family-Friendly Easter

...

Easter holidays are fast approaching, so take a look at staying London. With a range of beautiful family homes available choosing your rental is easy!

28 Mar 13

Go to: The British Museum's Po

...

When on your London Vacation do visit the amazing exhibition on Pompeii at the British Museum. The British Museum is a must for any holiday to London.

29 May 13